Today we have released a brand new Pingdom Android app. Like the iPhone app we released a short while ago, the Android app is completely reengineered from the ground up.
With a new design and added functionality, the app puts more information about your website monitoring checks in your pocket. Whenever you receive an alert on your Android smartphone we want to help you get to what's wrong as quickly as possible, then allow you to dig deeper.
The new app is available today from the Play Store. It's of course free, so there's no reason why you shouldn't download it right away.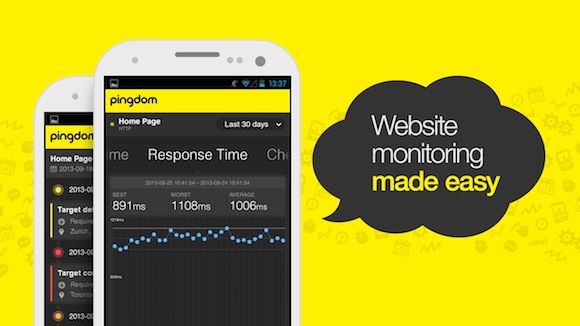 Needs a fresh installation
Because of technical reasons and especially due to the notification system, we chose to release this as a completely new app. This means you will need a fresh new installation of the app, it won't automatically update.
If you want to keep using the previous app you can do so. It will continue to function as is for the foreseeable future.
How the app fits in with your life
To give you an idea of how you can use the app in your everyday activities, we previously put together a quick video:
https://www.youtube.com/watch?v=1N0NCXpOwf0
What's new in the app
You can read more about what's new in the app, but here's a summary of the main points:
Focuses on outages: When you receive a notification on your Android smartphone you can tap it and go straight to the outages view in the app. Also, when you log in to the app it will show you the most recent outages. This way you quickly get to what's important for you.
Easy access to more information: The app displays critical information about each of your checks in a way that will help you track how they have been performing over time.
Root cause analysis now in the app: It can help you troubleshoot outages while on the go.
Support for multiple users and tags: If you have a Team account, the app supports multi-user log in and tags for checks.
Landscape orientation: In the Android app, all views are available in both portrait and landscape orientation, enabling you to choose which one that suits your particular needs.
Questions?
If you have any questions about the new Android app, just head over to our support site.