Today we've released a brand new Pingdom iPhone app. It's completely reengineered from the ground up and puts outages in focus. Whenever you receive an alert on your iPhone we want to help you get to what's wrong as quickly as possible, then allow you to dig deeper.
The new app is available today from the App Store. It's of course free, so there's no reason why you shouldn't download it right away.
To give you an idea of how you can use the app in your everyday activities, we put together a quick video:
https://www.youtube.com/watch?v=1N0NCXpOwf0
Focuses on outages
When setting out to build the new version of our smartphone app it was very important for us to focus on what would help you get to the information you need when an outage happens. Therefore, when you receive a notification on your iPhone you can tap it and go straight to the outages view in the app. Also, when you log in to the app it will show you the most recent outages. This way you quickly get to what's important for you. The app also groups outages so you can quickly see what's most critical at the moment.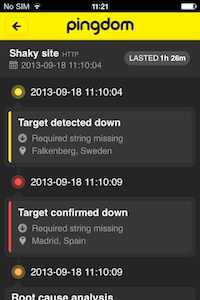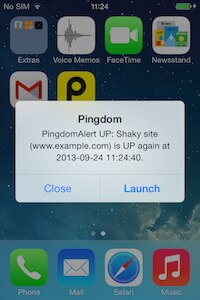 Easy access to more information
The app displays critical information about each of your checks in a way that will help you track how they have been performing over time. To have easy access to this historical information can help you diagnose issues faster.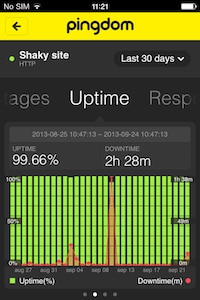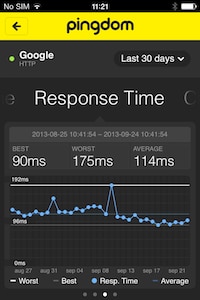 To take better advantage of the limited display size of the iPhone, in many views in the app, you can simply swipe left or right to change what information is displayed. For example, a quick flick of the finger takes you through uptime, response time, and outages charts. You can also tap and drag on charts to see the details for that particular point in time. If you have a lot of checks, you will be pleased to learn that you can search for checks in the app. You can also bulk-pause checks.
Root cause analysis now in the app
Something that we think will help you get the bottom of an outage quicker is that the root cause analysis is now available in the app. This will help you troubleshoot outages while on the go.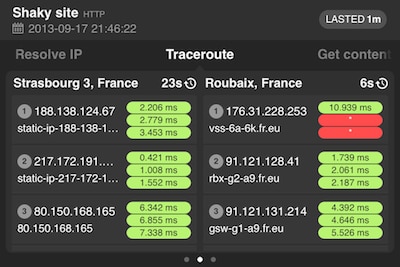 Many views in the app are available in both landscape and portrait orientation. Especially in the landscape view, the app will display more information to you in one screen. The traceroute view, which is a part of the root cause analysis, is especially effective in landscape orientation, as you can see above.
Support for multiple users and tags
If you have a Team account, the app supports multi-user log in and tags for checks.
Download new app now
The new Pingdom app requires iOS 5 or higher and it's available now.
What about Android?
Don't worry, we have not forgotten about the Android version of our app. It's being developed as we speak and we hope to be able to release it soon. The current version is of course still available for download.
Questions?
If you have any questions about the new iPhone app, just head over to our support site.