Say one thing about Pingdom, say we listen to our customers. For a while now, we've received a steady flow of production requests for new features. Our number one most requested feature (by a country mile) was PDF reports, so you could share the results of your various checks. Coming in at second place was the ability to run tests from multiple locations for you Page Speed check.
Well, you asked and we've delivered: we're proud to announce that you can now test your web page's load speed from 5 locations across the globe: Eastern US, Western US, Europe, Eastern Asia and Australia.
Originally we only offered the Page Speed test from our probe servers in the eastern United States but quickly realized that it was important to you to check how quickly your page loads from the same areas as your page's visitors. Now, you can check your page load time for your Australian visitors, even if your page is hosted on servers in Chicago!
You can select from any of our 5 locations when setting up a new Page Speed check in your Pingdom dashboard from the drop down menu during setup. Alternatively, you can edit the test location of any of your existing checks by clicking on the arrow to the right of your check, clicking 'Modify Check' and selecting your desired location from the drop down menu.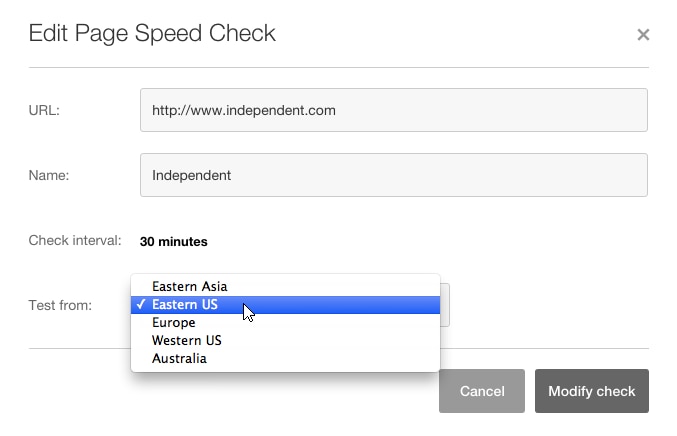 Without further ado, we are also happy to tell you that you can now download your Uptime and RUM reports in PDF format and print or share to your heart's content. Simply go into the report of your choice and click on 'Download PDF' in the top right-hand corner to retrieve it.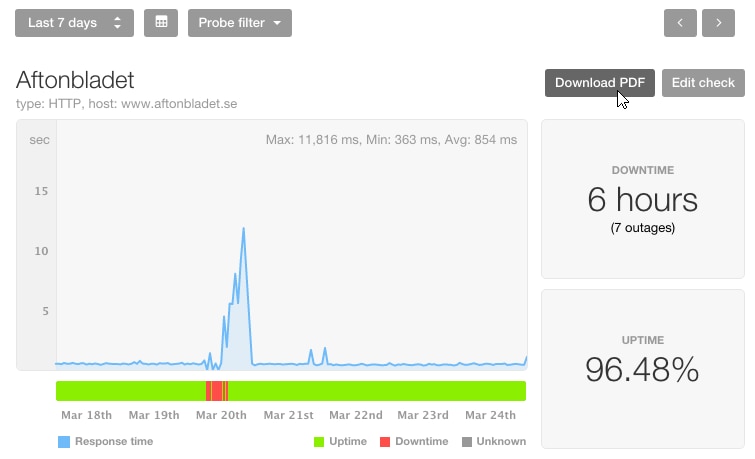 Whilst we haven't yet released PDF reports for our latest tool – Page Speed testing, rest assured that this too is well on its way and we'll holler when it's ready for you to check out!
Remember, we've always got our ears to the ground for what our customers want so if you've got a good idea or really want a feature that would make your Pingdom experience better, please let us know in the dedicated section in the Pingdom Community.