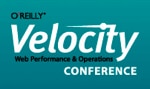 Next week it's time for one of the most interesting conferences in our field: O'Reilly's Velocity 2011. It's all about scalability, web performance and operations and features a ton of interesting speakers, including bright minds from Google, Yahoo, Twitter, Microsoft, Akamai, Mozilla, Heroku, Opera and many other companies.
Several of us from Pingdom will be attending the conference to learn, be inspired and meet interesting people in the Internet industry.
In short, we expect to have a great time. We'll be on a flight from Sweden to San Francisco on Monday.
Maybe we'll even see you there!
We'll definitely be tweeting from the conference, so if you don't already follow @pingdom on Twitter, now might be a good time to start. And we're on Facebook, too! 😉