In the latest Netcraft Web Server, for January 2012, the lightweight open source web server software NGINX amassed more active sites than Microsoft Internet Information Server for the first time.
That makes NGINX the second most used web server software in the world right now, only trumped by Apache.
Let's look at the numbers.
NGINX is bigger than IIS for active sites
Looking at the development of the top four web server software packages from January 2011 to January 2012, we get this chart: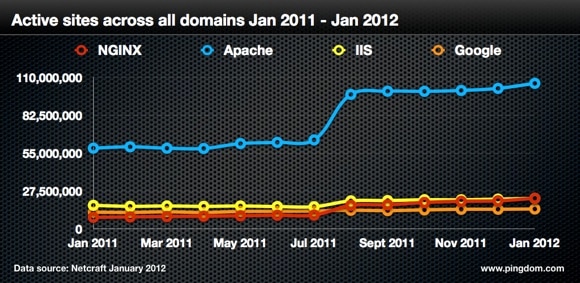 With Apache in such a big lead, the changes between the other three aren't that noticeable.
In absolute numbers, in January 2012, NGINX had 22,221,514 servers and IIS had 22,142,114, so the difference is very small.
If we exclude Apache in order to get a better picture of the fight between NGINX and IIS, this is what it looks like: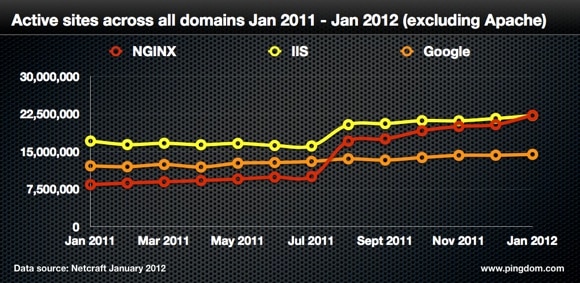 It's worth noting that it's in the category for "active sites" NGINX is ahead. If you look at Netcraft's "Market Share for Top Servers Across All Domains" numbers, NGINX is still behind IIS, but the gap is closing. It's conceivable that if the trend continues, NGINX will take the number two spot even in that category later this year.
The future seems bright
Not long ago we published an interview with one of the members in the NGINX team.
In that interview, Andrew Alexeev who's in charge of Business Development and Marketing for NGINX, said that statistics from sites like Netcraft and W3techs doesn't influence the direction of NGINX.
However, he added, "it does show us that NGINX is headed in the right direction, because for quite a while we've been the only web server with its market share steadily growing. So, the web server surveys are actually good indicators for us in gauging whether we've been delivering a valuable product."
So by those very same indicators, the NGINX team has done a tremendous job.
Image credit: NGINX logo by Cliff Wells.
Update: We are still waiting to hear from Netcraft about the jump in numbers around July, but it does offer somewhat of an explanation in the August Web Server Survey post.