When a big website goes down it's not long until Twitter is full of tweets lamenting that it's down. We have written about this many times in the past, but in the wake of Twitters own outage tonight it's a little bit interesting to see where people turn to for information, since Twitter is the primary news source for many of us.
Twitter's service was confirmed down just after 4AM ET and still down at 5:30AM ET. The company's developer-facing monitoring confirmed that four of the five public APIs were down.
From The Guardian online edition:
Twitter was unavailable for users worldwide on Tuesday morning, with the site apparently suffering a total outage followed by serious access problems lasting over an hour.
Ouch! Now, outages will happen to all of us. In fact the only thing certain in life is probably death, taxes and outages. While we have no idea how to fend off death or taxes, the latter you can at least monitor. It is very common for companies, as well as individuals, to monitor the uptime (availability) and performance of their websites. That way they can be notified of problems as soon as they occur and also view how their site has performed historically.
You really want to be the first to know about any outages. If you are running ads on your website you risk losing a lot of money, not to mention your online reputation. You know what they say about first impressions.
So make sure you are alerted when outages happen. It's so easy to set up in the Pingdom dashboard, you can also edit your existing check and add alerts if you haven't already: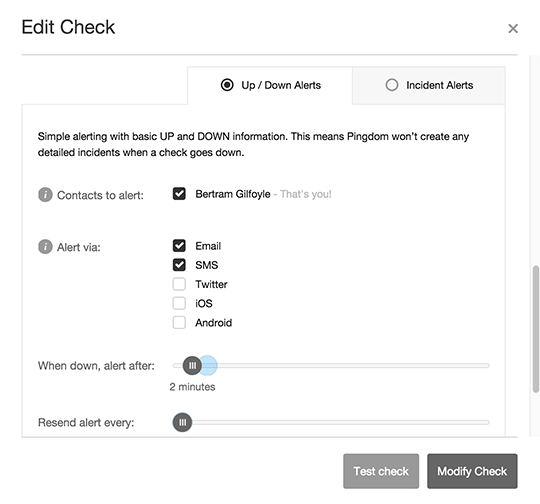 Edit: Twitter is since back online again, so all is good in the world, because how would we find out what is going on? We love you Twitter!