With consumers expecting web sites to load faster and faster while web applications get more complex, it is getting harder to be knowledgeable about every component of your web application.
Web performance requires knowledge on subjects like application troubleshooting, firewalls and security, network troubleshooting, database performance, and on concepts like DevOps and cloud.
Those are some of the topics covered at ThwackCamp, the virtual event designed for technology professionals who care about application performance. The sessions will be presented by experts from SolarWinds, Chef, Pivotal, Cloudsoft, Basho and others.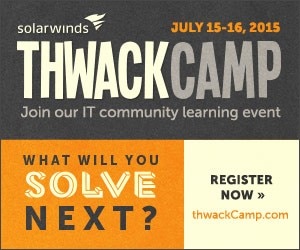 The sessions include:
Digging for Security Gold: Using Firewall Logs to Find Security Issues
The 5 Vital Things to Know Before Your First Cloud Project
Finding the Needle in the "AppStack": Troubleshooting Application Performance
DevOps: A Magical Unicorn that is Transforming Service Delivery
Application Stack Wars 2015 – Return of the IT Versatilist
Seven Signs Your Database Server Is Lying to You
Buy Me a Pony: How To Make IT Requests that Management Will Approve
Crossing the Great Divide: Conversations Between IT, Networking, and Security Ops
Application Performance IS about Database Performance
Troubleshooting Network Critical Paths & Technology Sneak Peak
To register go to: thwackcamp.com. There are giveaways and prizes for all who attend.
If you are not an IT person, don't be shy to forward this information to your IT team – they may find it useful.