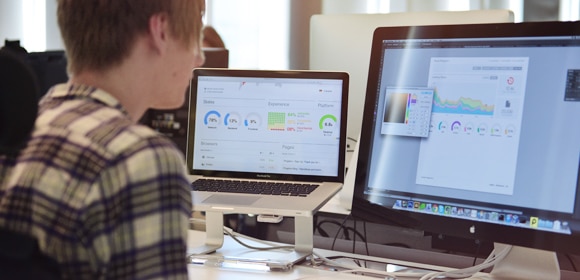 Today, we take another important step on our quest for making the web faster and more reliable by going live with the Pingdom Real User Monitoring beta program. After we announced that we were working on our RUM service, the response from you guys has been tremendous, and we're delighted that so many of you want to try it out and be a part of shaping it.
With the passive monitoring that RUM represents, you can know exactly how real visitors are experiencing your websites. You can analyze the performance data to see how it relates to browser, platform, country, or a specific page on a website, and also the process that takes place during loading.
RUM helps you answer questions like, how does your website really perform from a specific country or web browser, and many more. And you can watch all this happening in real time, a fantastic treat, especially if you have a busy site.
First beta activation codes sent out – more coming
Today we open up the Real User Monitoring beta to a limited number of users who have already registered their interest. If that's something you have done, chances are that you have by now received your exclusive activation code via email.
If you didn't get a code today, there is still every chance you can get started with RUM soon since we'll be sending out a small batch of codes every day from now on. Just register your interest at www.pingdom.com/rum, where you can also find more information about the service.
Easy to get started
Once you have received your Real User Monitoring activation code, you simply go to your account in my.pingdom.com, click on Beta Labs at the top, and enter the code.
For each new website you want to monitor with RUM, you then need to install a small JavaScript snippet in the HTML code on the site. Once that snippet is installed, we will start collecting performance data for that site.
As data start coming in, make sure you take advantage of all the rich information the RUM report for each site has to offer. Especially if you have a busy site, you want to make sure you watch the real time flow of user data come in.
After you have used RUM for a while, we'd appreciate you input. The best way to give us your suggestions, ideas, and comments, is to head over here.
A sign of more things to come
This Real User Monitoring beta comes right on the heels of the Transaction Monitor beta program we announced just a short while ago. Together, these two represent key components of our strategy going forward.
But we're not done with that. There's more in the pipeline, and we hope you stay tuned to this site to be the first to know when we have something new to announce. For now, enjoy the Real User Monitoring beta, we think you'll find it useful and fascinating.
If you want to be a part of the Pingdom team and build exciting products used by people around the world, just like our RUM, why not consider joining us? Head over to jobb.pingdom.com (it's in Swedish) for all the details. If you can't find exactly the job you're looking for, but you're kick-ass awesome, get in touch anyway.