Today we've not only introduced upgraded and new plans, we can also proudly announce that Pingdom's Real User Monitoring (RUM) service has stepped out of the beta mode.
Available immediately on all our plans, RUM is the perfect complement to the different types of monitoring we already offer. Real User Monitoring will give you even better insights into the performance of your website.
By introducing Real User Monitoring, we continue the process of building the complete toolkit that will help us all to make the web faster and more reliable.
The performance of your website from all angles
When it comes to website performance, there is one question that is more interesting than all others: How fast does your website load? Historically, this hasn't been that easy to answer, especially taking into account all the variables involved like the visitors' connection speed, browsers, devices, etc.
But now, Real User Monitoring helps you to understand all these aspects and more by collecting data from all visitors to your site.
And by turning this data into information, which we present to you in easy to understand charts and graphs, you'll know how actual visitors experience your website's performance. Armed with that knowledge you can take appropriate action when necessary.
Key features
Since real user monitoring collects data from all your visitors, we can show you the complete distribution of load times from the fastest to the slowest.

You can see  performance trends over time for your website, making it possible to compare updates with previous versions of the site.

You can see the individual page loads in real-time. For example, if your site suddenly appears to slow down, you can review the real-time data.
The real user monitoring data will help you identify what platforms and browsers your visitors use.

Real user monitoring can add a geographical perspective to the understanding of your website's performance. Maybe a particular part of the world is extra important to your business.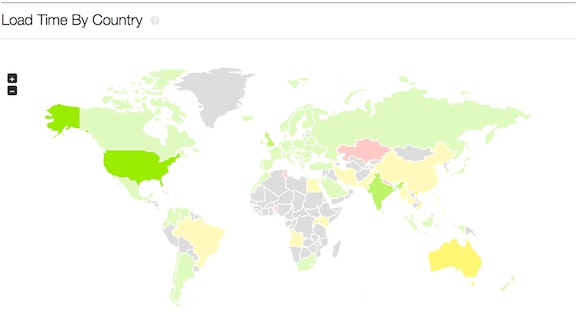 Clearly, it's useful to know the load time of individual pages on your site, but where does the load time go? In other words, how much time do the different loading states take?

Available now on all new Pingdom plans
As we already mentioned, Real User Monitoring is now available on all our new plans. All you need to do is to log in to your Pingdom account at my.pingdom.com, and you will find Real User Monitoring in the control panel, under a brand new icon.
You can also sign up for a new free account and try out Real User Monitoring.
From there it is very easy to set up Real User Monitoring for your website. You just copy a small script into your website, and Pingdom will start collecting data.
Want to know more?
If you want to get a better understanding of how our Real User Monitoring service works, and what it can offer you, we have collected some previous posts about the service:
In addition to these articles, we will continue to publish blog posts that can help you get the most value possible out of real user monitoring.
Feedback and support
If you have any questions about our Real User Monitoring service, please check out our FAQ. If that doesn't answer your questions you are always welcome to contact our support.
We also welcome your feedback; we always love to hear from you.