WordPress is no doubt a very popular web publishing platform for blogs and other types of websites. But just how popular is it?
We just completed a study and found that WordPress is in use by 48% of the top 100 blogs in the world. This is an increase from the 32% we recorded three years ago.
Other developments since then include that custom blog publishing platforms are more common now, TypePad has all but disappeared from the top 100, Tumblr has made an entrance, and some companies really don't want to spill the beans about what solutions they use.
Update: Following a comment (see below) we have adjusted the article a bit. TUAW is running BlogSmith, so it has been removed from WordPress self-hosted. TMZ is running CrowdFusion, so it has been removed from BlogSmith, and CrowdFusion added to the list. This bring the total for WordPress to 48. We also adjusted Gawker and Gizmodo to being on Gawker's platform, moving them from the Custom category.
WordPress is big, period
Just over three years ago we looked at what blog platforms and content management systems (CMS) were used by the sites listed in Technorati's top 100 blogs. We found that WordPress was the number one blog platform with 32% of sites using it.
Doing the same survey now in 2012, we find that quite a bit has happened in three years. Most notably, WordPress now completely dominates the top 100, accounting for almost half of the blogs.
Here's what we found in our survey: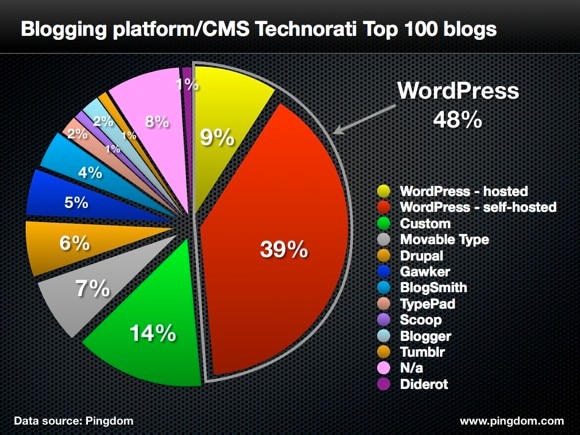 You can read more about how we went about finding out what platform each site is using at the end of the article. To summarize it, we used common tools to try to figure out for ourselves first, what the site is using. Only if that did not reveal anything, did we try to contact the site's owners and administrators directly to ask them.
Comparing 2009 to 2012
Now, lets look at some of the important findings of our 2012 study, especially the changes since 2009:
In total, WordPress has increased from 32 to 48 out of the top 100 blogs.
Hosted WordPress sites has increased from 5 to 9, while self-hosted solutions increased from 27 to 39.
TypePad has decreased dramatically, from 16 to only 2.
Movable Type lost quite a bit, dropping 5 sites.
Drupal gained 2 sites.
Tumblr makes an entrance on the top 100 with 1 site.
CrowdFusion also makes an entrance on the list with 1 site.
Google's Blogger is holding fairly steady, dropping 1 site down to 2.
Daily Kos is still the only site in the top 100 that runs Scoop.
Expression Engine and Bricolage drop out of the top 100.
The 8 sites marked as "N/a" we just didn't manage to get any information about.
It's very likely that a big chunk of the "N/a" sites are in fact custom, and if we add the two categories together, that's 20% of the top 100 list.
We should point out that hosted "WordPress – hosted" includes WordPress.com and WordPress VIP SaaS. As the name would suggest, WordPress VIP Self-Hosted falls in the self-hosted category.
And if you want all the details, here are the aggregated numbers for all the platforms, in alphabetical order:
Looking at these developments it's clear that a lot has happened in three years. Some platforms have lost ground, while others have gained, as could be expected.
WordPress Matt expects even more
In the three years since our last survey, not only has WordPress strengthened its grip on the top 100 blogs, it has all but taken over. At 48%, WordPress is clearly the dominating blogging platform as well as of growing importance as a more generic CMS.
It's also interesting to see that our findings are not far off compared to what Technorati found in its State of the Blogosphere 2011 report. In it, Technorati found that 51% of blogs in the world use WordPress.
With WordPress having made such a strong advance recently, is there room for more growth?
Matt Mullenweg, the founding developer of WordPress as well as the founder (and Chief BBQ Taste Tester) of Automattic, certainly thinks so. We contacted him and he told us that he expects even more from WordPress in the coming years:
"The last few years we've really focused on both the usability and flexibility of WordPress, which has resulted in accelerating growth in both big and small sites. I expect even higher adoption among the largest sites and blogs over the next year."
Complete list: top 100 blogs and their blog platforms
Here is the complete list of the top 100 blogs, presented in order of Technorati rank:
More secretive about platforms
One reason it took us so a while to publish this article was the problem with finding out from quite a number of sites what blog platform or CMS it was running.
In fact, one thing that seems to have happened since our survey in 2009 is that site owners and operators have become more secretive about their choice of platform.
In one case, we were even told by the person who is listed as the administrative contact on the domain registration, that he was under non-disclosure agreement to not reveal anything about the site.
So, in the last three years, big websites, or at least the people who run them, seem to have become more secretive about the technology behind them.
That's just another example, we suppose, of how the blogging platform or CMS running a site, is a part of a site's competitive advantage.
The blogging landscape is changing
There's no denying that we have a certain affinity for WordPress, especially since it's what we use for our blog. But we also find it very interesting to see how the blogging landscape has changed in just a few years. For example, we noted recently that Tumblr has reached 50 million blogs. That's a remarkable feat for a site launched in 2007.
WordPress Matt may be optimistic about the future, but what will the situation really look like in 3 years time, if we do a similar survey then?
Only time will tell, but it's safe to assume that WordPress will also then play an important role.
Methodology: Since the Technorati Top 100 is updated every day, we froze our list on March 20, 2012, and then set out to investigate what blog system or CMS each site is using. For each site, we started by using third-party services like BuiltWith, WhoIsHostingThis, and Wappalyzer, to see if they would reveal anything about the site. If that did not give us any results, we proceeded with tools like host, whois, and dig. Only if that still didn't tell us what we needed, did we get in touch with the site through contact details published on the site (mainly email, phone, and Twitter), or in the domain registration. In most of the cases marked "N/a" the other party simply did not want to respond to our repeated requests. In just a few cases, they declined to answer.