First there was the Mac line of computers, then Apple added the iPod, then the iPhone, and little over a year ago, the iPad. Over the past 10 years, Apple has gone from being a computer company to being a true consumer brand.
This can be easily illustrated by looking at search trends, in this case the overall interest in Apple's various product lines over the years (courtesy of Google Trends).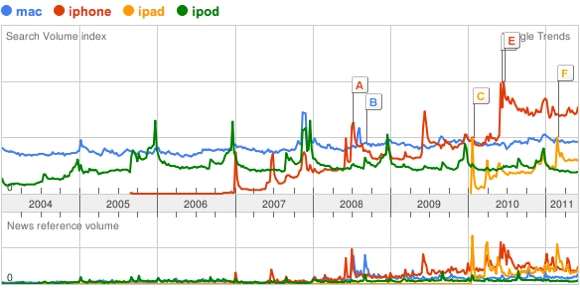 What does this chart tell us?
From one, to two, to four strong legs to stand on: Above all, this chart tells us that Apple today is a much more diversified company than it was just five years ago. It has twice as many strong legs to stand on, and compared to 10+ years ago, four times as many. You can also see this by studying Apple's financial reports, examining where the money is coming from.


Product popularity, in order: By mid 2011, the most popular Apple devices would seem to be, in order: 1) iPhones, 2) Macs, 3) iPads and 4) iPods. In other words, iPhones, iPads and Macs are all stronger product lines these days than the iPod, even though the iPod (in its various incarnations) was, and still is, a hugely popular device.

iPod, the gift favorite? This is kind of a side note, but iPods are clearly very popular Christmas gifts (big spikes every Holiday season).

The growth of Mac computers: If you look closely, the interest in Macs is growing, albeit nowhere near as fast as interest in Apple's iOS devices. That the Mac is growing as a platform, even relative to other non-Apple operating systems, is also supported by data from other sources, like OS statistics from StatCounter. One factor is certain to be the knock-on effect by the ever-increasing number of iOS devices, which are bound to be pulling more users into the Apple ecosystem.

In the news: The iPhone and iPad get significantly more attention by the news media than Macs or iPods (see the "news reference volume" part of the chart).

What about Apple TV? In case you're wondering, Apple TV hardly makes a blip on this chart so we didn't include it. Maybe things will be different down the line, but as of now, it's a minuscule product by Apple standards.
From 0 to 300 Apple Retail Stores in a decade
Another thing that has happened with Apple in the past decade is that it has established its own physical retail presence. The first Apple Retail Store was announced on May 15, 2001, and opened a few days later. That's almost exactly 10 years ago (ok, plus one month).
Today there are more than 300 Apple Stores around the world. This gives Apple its very own retail chain where it can highlight products on its own terms as they are launched, not having to depend on other retailers or just selling online.
Diversified, but not unfocused
Apple has a much more diverse product line now than it had a decade ago. This could have lead to a certain lack of focus, but is hasn't. Apple may be called many things, but unfocused isn't one of them. All these new products have only served to make the company stronger and much more profitable, not to mention more valuable.
Will Apple be adding more legs to stand on in the future? They have gotten into the habit of surprising the tech industry with something brand new every couple of years, so it seems very likely. We're looking forward to seeing what's next.