Gulltaggen, "The Nordic Premier Digital Marketing Conference," kicks off today in Norway. It's an annual awards ceremony, which aims to "stimulate and reward the heroes in digital creativity."
This year's Gulltaggen is headlined by Sir Tim Berners-Lee, so it's clearly quite a show. Of course this caught our attention so we set out to take a look the websites run by the producers of the projects that are up for an award at this year's Gulltaggen.
We found some interesting things indeed.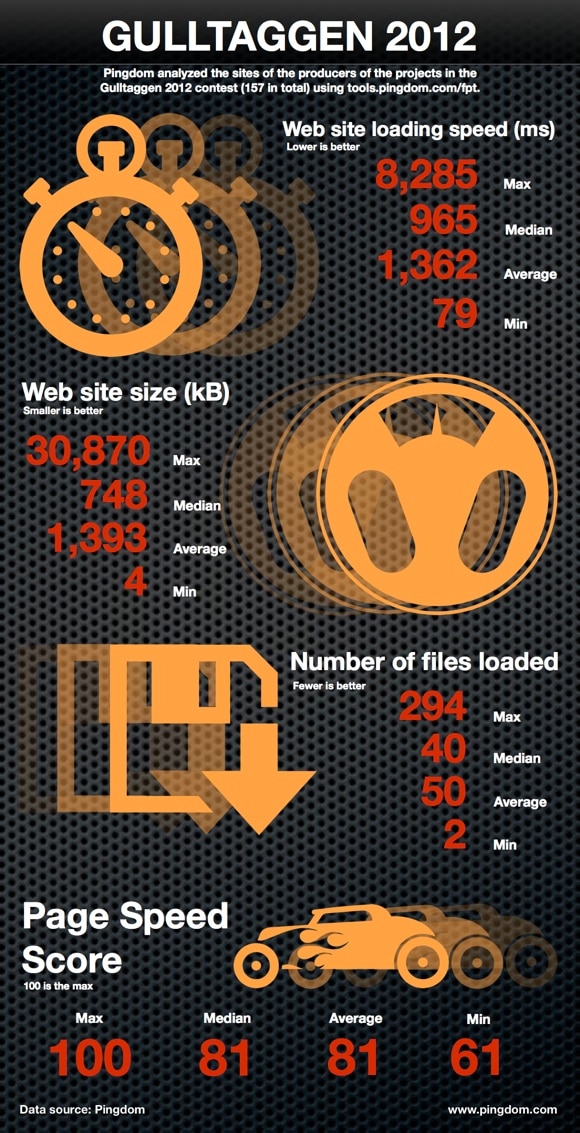 Good luck to the Gulltaggen contestants
Looking at the median numbers, the producers of the Gulltaggen entries are doing pretty well with their own sites. Of course, one site sticks out like a sore thumb – 30 MB in size and almost 300 files! That'll be hard to beat 🙂
We do wish all the contestants good luck and we look forward to following Gulltaggen 2012.
Note about the methodology: Since all the contestants are listed on the Gulltaggen site, it was easy to create a list of all the individuals, companies, and organizations listed as the creative or production agency for an entry. Note that the sites we checked are not the ones in the competition, simply because not all entries have sites, they are in many cases "just" mobile apps or videos. After checking and rechecking URLs and sites, we ended up with 157 working websites, which form the basis of our analysis. We ran all the sites through our Full Page Test, collecting data such as how fast the site loaded, how many files it downloaded, the total size of the site's homepage, and more.