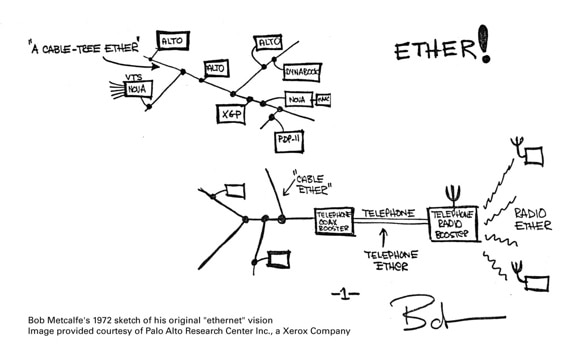 May 22 is the birthday of Ethernet, a family of computer networking technologies for local area networks (LANs). It was on this day in 1973 that Robert Metcalfe submitted a memo that detailed how the Xerox Palo Alto Research Center (PARC), where he worked, should connect its personal computers to a shared printer.
Metcalfe has admitted that he more or less invented the birthday of Ethernet because it was "useful" for marketing purposes, but that doesn't make the invention of Ethernet any less significant.
Chances are that most, if not all of you, whether you know it or not, use Ethernet to read this post. Turning 39 today, Ethernet is a technology that is so fundamental to our world today that it's all but impossible to even consider where we'd be if it had not been invented.
Metcalfe may be the person most closely associated with Ethernet, but the patent, with the title "Multipoint data communication system with collision detection," is shared between David Boggs, Butler Lampson, Robert Metcalfe, and Charles Thacker.
Something that caught our interest in doing the research for this article was a handwritten comment in a memo by Metcalfe dated 21 December 1976. In the memo, he lays out the "Xerox Wire Functional Specification." The two words we found interesting were written right next to a passage discussing the Xerox Office Information Systems (OIS) and IBM's Systems Network Architecture (SNA).

After the passage, Metcalfe simply wrote "Take that."
We contacted Metcalfe to verify that it was him that wrote the comment, and the answer was that yes, indeed it was. He replied: "It was my practice to print out and hand annotate memos." We're very thankful he also tweeted about it:
Ethernet invented 1973, called Xerox Wire 1976-79. Here's 1976 spec, thanks to Magnus Nystedt of pingdom.com: bit.ly/K97EOq

— Bob Metcalfe (@BobMetcalfe) May 16, 2012
We think it's safe to say "take that," also to anyone who didn't think Ethernet would catch on as it did.
Top image appears courtesy of PARC, a Xerox company.