Who has not used Google Maps? Raise your hand! Since the launch 7 years ago, Google Maps has become the de facto map service that users around the world go to for all their mapping needs.
As we say Happy Birthday to Google Maps, read on to find out some of the critical milestones in its history, and some amazing numbers and statistics.
Important dates for Google Maps
We have collected quite a number of dates, statistics, and other information covering Google Maps' 7-year history. First, let's look at some dates in the timeline of Google Maps:
2004 – Google Inc. bought Australian company Where 2 Technologies, where two Danish brothers were working on a C++ programing project, the embryo to Google Maps.
8 – February 8, 2005, Google Maps was officially announced.
2005 – In June, Google released the Google Maps API.
2006 – On January 23, Google Maps was updated to use the same satellite image database as Google Earth.
30 – The number of cities in the US included in Google Traffic when it officially launched on February 28, 2007.
360 – The panoramic view offered by Google Street View, introduced on May 25, 2007.
2007 – On August 21, Google announced a simple way to embed Google Maps into other websites.
2008 – On July 15, walking directions were added.
2009 – Google Maps overtook MapQuest in terms of traffic in January.
2010 – On Christmas and New Years day, mobile usage of Google Maps surpassed desktop usage for the first time.
40% – This percentage of all Google Maps usage was from mobile devices as of March 2011.
200 million – Google Maps for Mobile had this many users as of May 2011.
Amazing Google Maps facts and figures
Next, let's dig into some numbers and statistics relating to Google Maps:
2,337 – The number of mashups using Google's API that are listed on ProgrammableWeb.
15% – This is the usage share of the Google Maps API, currently the most used API tracked by ProgrammableWeb..
25,000 – The maximum number of map loads any Google Maps API may generate per day for up to 90 consecutive days without incurring a cost.
800-1500 feet – The altitude from which most of the high-resolution imagery of cities you find in Google Maps are taken, even though Google uses the word satellite.
0 – If you try to look at North Korea using Google Maps you will only see the satellite image. It's the only country in the world with no data available in Google Maps.
23 – The maximum zoom level in Google Maps, only available in a small number of places. In most areas the zoom level stops at 20.
12 billion – The number of miles per year that Google Maps Navigation, included on Android handsets, has guided users.
2 years – The time saved per day for users of Google Maps Navigation with the traffic routing functionality.
1.18% – The share of sites in the top 10,000 of sites tracked by BuiltWith.com that use Google Maps
1,162,460 – In total, BuiltWith.com reports that this many sites use Google Maps.
Interest for Google Maps has steadily increased since its introduction, as measured by Google Trends.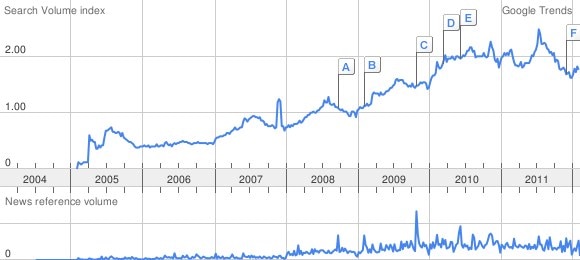 Where does Google Maps go from here?
There seems to be no doubt that mobile is where the emphasis lies for Google Maps in the future. With location-based services like Latitude and Places, Maps is arguably critical to Google's future. We look forward to what Google can come up with next.
Do you have any cool and exciting Google Maps mashups or projects that you'd like to share with us? Use the comments below or Twitter.
Source is Wikipedia, if not otherwise indicated with a link.