We're all fans of cool screensavers here at Pingdom so we wanted to pick a few of our favorites and share them with you. A great screensaver is a good way to personalize your computer and to make a statement.
Digging deep through screensaver history we found these 10 that we find especially impressive.
Many of the screensavers below work with both Mac and Windows (and at least one with Linux too) but you should probably check the system requirements before downloading a particular screensaver. All the screensavers are free.
Lotsawater
This is a Mac-only screensaver that turns your display into a pool of water with ripples spreading all over it. It gives a very realistic feeling of water and it's rather captivating to look at. You can even get the source code and tinker with it if you like.
Word Clock

Word Clock works in different modes but the one we find most interesting is where it shows all the words needed to tell time on the screen at the same time. It then cycles through highlights of the few words needed to show current time. Simple and clever, and for Mac and Windows.
Electric Sheep

This is the only screensaver in our collection that is available for Mac, Windows and Linux and it is also one of the most beautiful. When installed, your computer talks to all the other computers running Electric Sheep, and download and render morphing abstract animations known as "sheep".
Flurry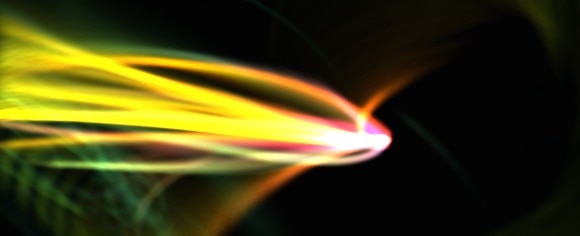 Flurry is a beautiful screensaver that comes with Mac OS X. It features gently dancing lines and shapes moving around the screen, stretching out and changing colors. This is a Windows port of the Mac OS X screensaver.
Flying Toasters
You're proably showing your age if you admit to having used this one when it was first introduced. This is a clone of the incredibly popular Flying Toaster screensaver that was a part of After Dark, introduced in 1989. On the Retro Flying Toasters homepage it's no longer available for download but check out the link below. Although there used to be versions of After Dark for Mac and Windows, this clone is Mac-only.
Fliqlo
Pretty simple but also very beutiful and effective. Fliqlo, for Mac and Windows, is an old-fashioned flip clock that covers the screen with the current time.
Briblo
From the maker of Fliqlo also comes Briblo, a combination of Tetris and building Lego. Pieces of Lego falls from the top of the screen and random structures build up at the bottom. It's very geeky. Like Fliqlo, it's available for Mac and Windows.
Soundstream
Watching Soundstream is sort of like flying through space, or so we imagine anyway, since we've not actually, you know, flown through space. It shows a series of particles with trails flowing across your screen and they react to sound captured by the computer.
It may not look that special in the picture above but once you get it running on a big display you will see why we picked Soundstream for this article. Oh, and Soundstream is only available for Mac.
PolarClock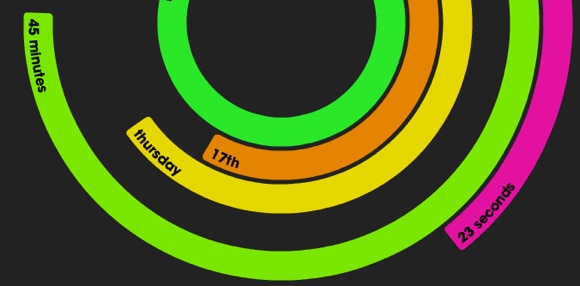 Polarclock takes a little while to understand but once you do it's a cool thing. Basically it shows seconds, minutes, hours, etc. as concentric circles that move as time progresses. PolarClock is also highly configurable with many options to set. It's available for Mac and Windows.
System 47
Finally, we have to mention System 47 (Mac-only) for all you sci-fi fans. System 47 is a very cool screensaver showing an LCARS-looking interface. That's the "Library Computer Access/Retrieval System" fictional computer operating system depicted in Star Trek TV-series and movies.
Honorable mention
There you have it, our pick of 10 screensavers worth checking out for their sheer coolness, beauty and geekiness. To finish things off – and in case you didn't get enough yet – we want to give an honorable mention to this vast collection of retro screensavers for X11 and Mac OS X.