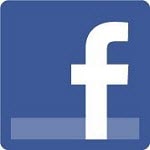 Facebook is still growing and is getting close to enrolling that magic 1 billionth user. According to data we gathered from Socialbakers, Facebook has added 180 million new users in the past year. But where are those users coming from?
In this article we'll look into just that. The population of Facebook is changing, growing in new places. For example, it turns out that in the past year, 30% of all new Facebook users have come from just two countries.
Growth divided by continent
As we already mentioned, Facebook now has 180 million more users than it had a year ago. It's quite amazing that in spite of being so huge, Facebook still is gaining new users at a significant rate. Here is where they are coming from: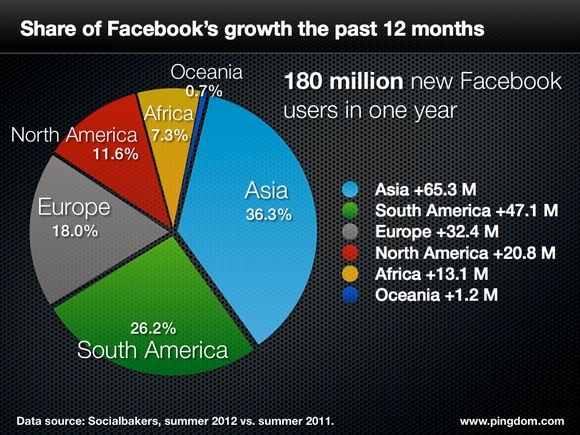 Facebook is growing in all regions, but at different rates. It is abundantly clear that Facebook's biggest growth markets right now are Asia and South America. Together they account for 62.5% of Facebook's growth over the past year.
Growth by country
Which individual countries have contributed the most to Facebook's growth over the past 12 months?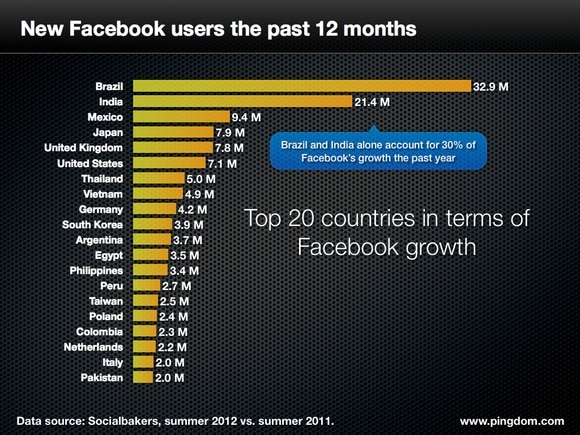 Two countries really stand out. Brazil accounts for more than 18% of Facebook's growth over the past 12 months. India accounts for almost 12%.
Brazil used to be all about Orkut, but now seems to be embracing Facebook full on. Considering the country has 79 million internet users, it's not so strange it has managed such massive growth. In fact, Brazil is now the second-largest country on Facebook.
Both Brazil and India used to be Orkut strongholds, so maybe their rapid growth on Facebook the past year is at least partly a result of Brazilian and Indian internet users abandoning Orkut.
Current top 10 countries on Facebook
We have just showed you which countries are growing the fastest on Facebook in terms of absolute user numbers. But which countries currently have the most Facebook users? Here are the latest numbers (from Socialbakers):
Current top 10 countries on Facebook:
United States – 159.0 million
Brazil – 54.8 million
India – 51.8 million
Indonesia – 41.0 million
United Kingdom – 37.6 million
Mexico – 36.5 million
Turkey – 31.3 million
Philippines – 28.9 million
France – 24.3 million
Germany – 23.9 million
A year ago the Facebook top 10 looked like this:
United States – 151.9 million
Indonesia – 39.2 million
India – 30.4 million
United Kingdom – 29.8 million
Turkey – 29.7 million
Mexico – 27.1 million
Philippines – 25.5 million
France – 22.7 million
Brazil – 22.0 million
Italy – 19.8 milion
As you can see there is some shifting around on this list, but the biggest jump here was done by Brazil. It jumped from ninth to second position in a year. India and Brazil have pushed down Indonesia from being number two to number four.
There is also the sleeping dragon to consider, the largest country on the internet; China. Facebook is currently blocked in China, but if Zuckerberg & Co somehow manage to get their foot in the door of that market, they will be able to tap into a pool of more than 500 million internet users.
Conclusion
It's pretty obvious when you look at this data that there are two main regions where Facebook is currently growing the fastest; Asia and South America.
We expect this trend to continue. These regions have large populations but a significant untapped potential in terms of internet users. Internet penetration is generally lower in these regions than in Europe and North America, but is growing rapidly. In other words, these two regions will be producing a lot of new internet users over the coming years.
It says something about Facebook's scale that in just one year, they've grown by roughly the size of the entire Twitter user base.
Data source: Facebook user numbers from Socialbakers, with some help from the Internet Archive's Wayback Machine. Internet user numbers from Internet World Stats
Larger versions of the charts: Growth by continent, growth by country.