The juggernaut that is Facebook is quickly approaching 1 billion users, so the social network is growing at a rapid pace overall.
But if we look at some of the latest figures available, it would seem that Zuckerberg's creation is not gaining users in every corner of the world.
In fact, in one country, Facebook has lost 16% of its users over the last six months, the equivalent of over 200,000 users. But in another country, Facebook has gained almost 17 million users over the same period.
What countries are we talking about, you ask? Read on and we'll tell you.
Facebook winners
Brazil is the winner, by far, when it comes to amassing Facebook users, but in relative terms there are many other winners, as well. Here are the top 10 countries where Facebook has gained most users over the last six months: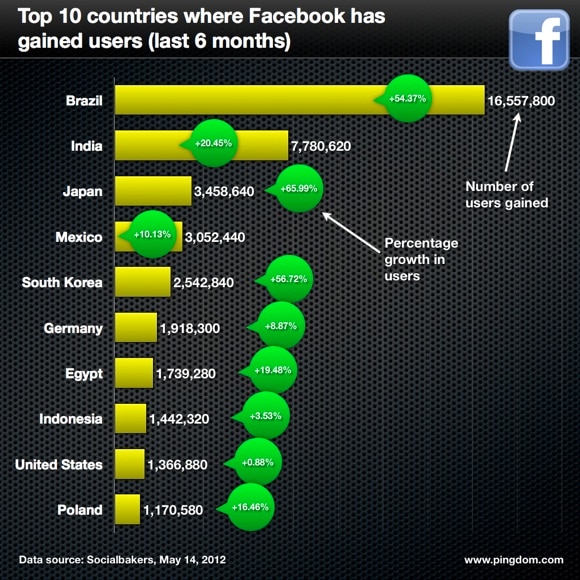 As you can see, almost 17 million Brazilians have joined Facebook over the last six months. That's an impressive number even when you look at the percentage – it represents a growth of 54.37%. There are countries that have grown more than Brazil in relative terms, like Japan, but not one is even close to the population size of Brazil.
Facebook losers
Then we flip the list and look at the ten countries that have lost the most users over the last six months. Suddenly, Puerto Rico is in the number one spot, shedding 232,980 users, followed by Venezuela, which saw a decline of 86,560 users over the same period.
But when we look at what relative size of the decline this represents, Puerto Rico is no longer in the lead, so to speak. That honor goes instead to Turkmenistan, which lost 34.82% of its Facebook users over the past six months. But even for Puerto Rico, the percentage loss is rather steep at 16.06%.
Facebook penetration around the world
While knowing how many people are using Facebook in countries around the world is interesting, it's also valuable to see where the potential for growth is.
In other words, what percentage of the population in a particular country or region is using Facebook, and where the biggest potential growth is. Here's what the current situation looks like for Facebook:
Clearly, the region where Facebook stands the most to gain, at least in terms of users, is Asia, where almost 217 million Facebook users represent only 5.6% of the population.
Obviously Africa stands out in addition to Asia, with only 4.28% Facebook penetration, but the population is also smaller (around 25% of the population of Asia). In addition, Internet penetration in Africa also lags behind Asia.
Conclusion
As Facebook is getting ready for its IPO, these are numbers that are probably studied in great detail by potential investors around the world. It seems evident that Facebook needs an expansion plan that involves all corners of the world, but that focuses on certain regions, like Africa and Asia.
We noted last year that despite 80% of Facebook users already being outside the U.S., the number of users that could be added to Facebook in population-rich Africa and Asia is enormous.
Throw into the mix that China still blocks Facebook, and the possible future paths for Facebook look even more interesting.
Note: We used Socialbakers as the data source for this article.