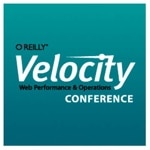 Tomorrow, Wednesday April 18, the Velocity Online conference on "Web Performance and Operations" takes place 9-11:30 am PST.
If you have an interest in web performance in general, if you build or maintain sites and web infrastructure, this is the event for you.
It's online and registration is free.
Steve Souders, web performance guru at Google and Velocity Online Conference Chair, will give the opening remarks, setting the stage for the event.
Then you get to listen to companies like Akamai, Google, and Olark, giving presentations on a wide range of topics. You will hear the experts talk about "Don't break the internet with your JavaScript", "SPDY and HTTP/2.0″, and more.
We at Pingdom will of course take part in Velocity Online and look forward to all the interesting talks.
Chat with us on IRC
Just in time for Velocity Online we've got our very own Pingdom IRC network set up. You can join us there during the event to chat about the presentations, give your input on what the experts say, or just hang out and chat about web performance.
The server is irc.pingdom.com (of course!) and we've created a chat room called #velocityonline just for the occasion.
We have more plans and announcements coming about IRC, so stay tuned.
Wait, there's more
Also, we wanted to add that you should definitely check out our series of interviews about web performance. The first one, with Jeremey Keith of Clearleft, was published last week.