A team of researchers in Australia has managed to create a transistor that is the size of an atom. That's the smallest transistor ever created. Considering that the single-atom transistor is only 0.1 nanometer in size, the possible applications are mind-boggling.
It will be quite some time before we see the single-atom transistor technology implemented in microprocessors that we use in computers and other devices. But this is such a thrilling development that we wanted to find out how it fits in with how microprocessors have evolved so far.
How small can a transistor be?
With the single-atom transistor now a reality, at least in research labs, we charted the evolution of microprocessor manufacturing. We think you will agree with us; it's quite a dramatic development over just 41 years. And things get even wilder when we gaze into the future, comparing the microprocessor manufacturing processes of today and yesterday with what is waiting around the corner.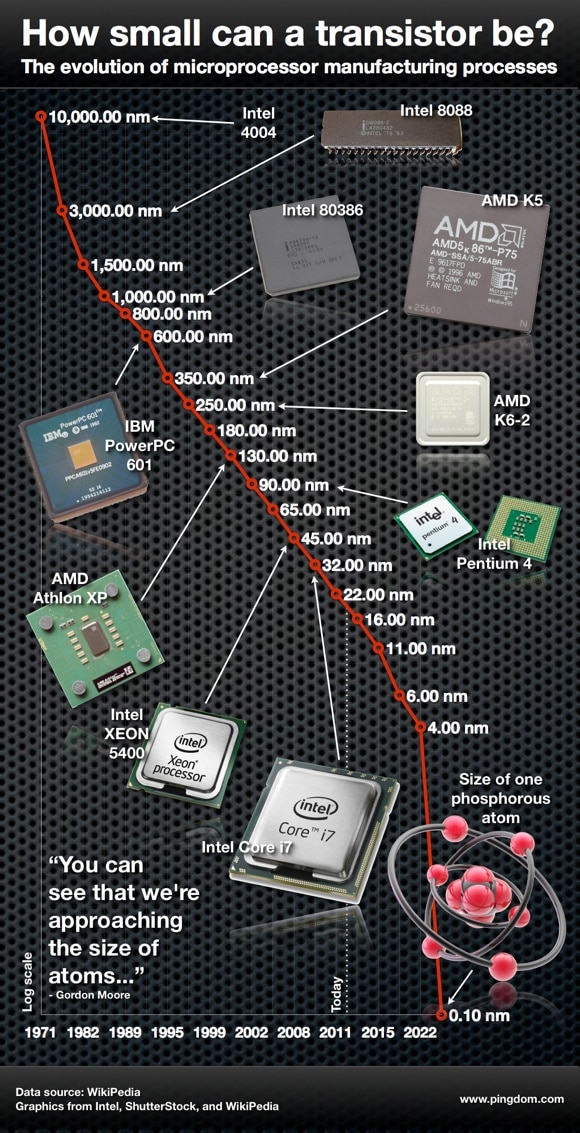 Moore's law will hit the wall
Gordon Moore gave name to the law that has been dominating the microprocessor evolution over the last 42 years.
Moore himself declared in 2005 that the law named after him was dead, when he said: "In terms of size [of transistor] you can see that we're approaching the size of atoms which is a fundamental barrier, but it'll be two or three generations before we get that far."
That may just become reality possibly sooner than even Moore thought.