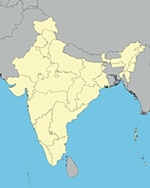 The Indian government has issued a temporary restriction on the number of SMS messages that can be sent in a day (no more than 5 per subscriber). The latest information is that this restriction will last for two weeks, and affects all of India. If you live there, you are probably well aware of this by now.
This drastic measure was put in place by the Indian government to curb the spread of rumors and inflammatory material concerning recent violence in Assam, India. Many websites have also been blocked for the same reason. It is a complicated situation, but basically the Indian government is doing this in an attempt to limit civil unrest.
We're Swedes, so it's difficult for us to comment on this from the outside. What we are concerned about, however, is the technical side effect of this move.
The problem is that a lot of legitimate uses of SMS are crippled while this daily SMS limit is in place. For example, many SMS gateways are severely limited because of this, which means that web services like Pingdom can have problems delivering SMS alerts reliably to India.
We are working with our SMS providers to keep SMS alerts to India functioning properly, but we cannot guarantee SMS delivery while this restriction is in place.
If you are a Pingdom user living in India, we recommend that you make sure you have activated alternative notification methods for alerts, for example email, so you don't risk missing any site downtime we detect for you.
Image via Shutterstock.