As you may know, we're working on a brand new control panel for Pingdom. We're calling it My Pingdom, and we've been gradually rolling out parts of it to our users so they can play around with it and tell us what they think.
We've just updated My Pingdom again, adding access to a few more sections. Previously, only the "reports" section was available. Now you can also manage checks and contacts, and we've added a new "probe server" overview so you can see a full list of all our servers and their status.
We've also made some general tweaks based on your feedback, improved the way filters work in reports, and ironed out a few bugs we found in the old beta version.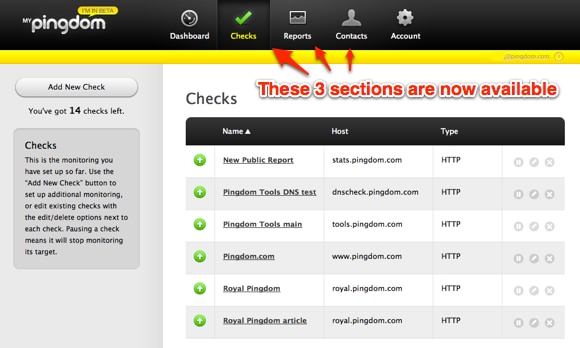 You can access the My Pingdom sneak preview from within the existing Pingdom control panel, or you can log in directly to it at my.pingdom.com. Your regular Pingdom user credentials apply.
Your feedback is important to us, so please note that there is a Uservoice widget inside the new control panel that you can use. We'd love to know what you think, what you like, what you dislike, additions or changes you'd like to see, etc.
Enjoy!