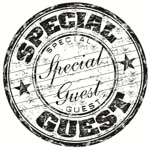 We're looking for guest bloggers for this blog, and you could be one of them.
If you follow the Royal Pingdom blog, you know we love cool and geeky stuff, like what's happening with the Internet, web, performance, gadgets, and more.
Do you think you could contribute one or more articles to the Royal Pingdom blog?
We're looking for top-notch quality content that is informative, analytical, engaging, funny, inquisitive, and, of course, of interest to our readers.
If you think you've got what it takes, send us an email, with some details about yourself, and what you'd like to write about.
If we feel that you could be a match for what we're looking for, we'll be in touch.
To get ahead of the question of whether we accept guest posts from companies writing about their services, we can simply say we're not against it. But it should be of interest to our readership, and it should not be just a sales pitch for your stuff. We should probably also add that we're pretty picky.
Image (top) via Shutterstock.