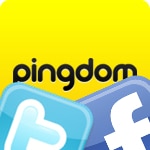 Late last week Pingdom passed a couple of milestones and we wanted to take this opportunity to thank all of you.
First, we passed 30,000 followers on Twitter, which for us is really amazing. Twitter has become an incredibly powerful tool for us to talk to our customers, distribute information, and do some tech support with as well.
Second, we passed 9,000 likes on Facebook, something we're equally proud of. Facebook is also very powerful, although we're sort of feeling our way in terms of what to use Twitter for and what to use Facebook for. Not all users are on both social media networks, for example, and not all types of issues are best dealt with in both places.
On both Twitter and Facebook we talk to many of you on a daily basis and we look forward to continue to do so. Via this blog, the Royal Pingdom blog and our social media we try to keep in close contact with our community
For both social networking services we're just scratching the surface of what's possible and with your help we're sure to push forward with new and exciting possibilities.
Pingdom among top Swedish companies on Twitter
To try to put the Twitter number especially in perspective we have been trying to see if there's a list of Swedish companies on Twitter and how many followers they have.  Based on what we could find, we seem to be somewhere among the top 5 Swedish companies on Twitter.
If you don't already, we hope you will follow us on Twitter and like us on Facebook.
And again thank you everyone – let's keep the conversation going.