In Finland, almost 8% of mobile web browsing is done on Windows Phone devices.
That makes Finland the number one country for Windows Phone. In contrast, Microsoft's smartphone OS only has 0.53% of the worldwide mobile web traffic.
But which country is number two and how far behind Finland is it?
Almost 8% mobile web browsing share for Windows Phone in Finland
When we grabbed StatCounter's Mobile OS figures for May 2012 to date, the picture is not too good for Windows Phone, especially if we look at a worldwide level.
It may be that Windows Phone has almost 8% share in Finland, but in the country in second place, which is Iceland, the OS only scores 2.3%.
That's quite a considerable gap!
Right now, the top 10 most Windows Phone–loving countries in the world, at least if we look at the OS' share of mobile web browsing traffic, are Finland, Iceland, Martinique, Faroe Islands, Austria, Germany, Italy, Belgium, Denmark, and Spain.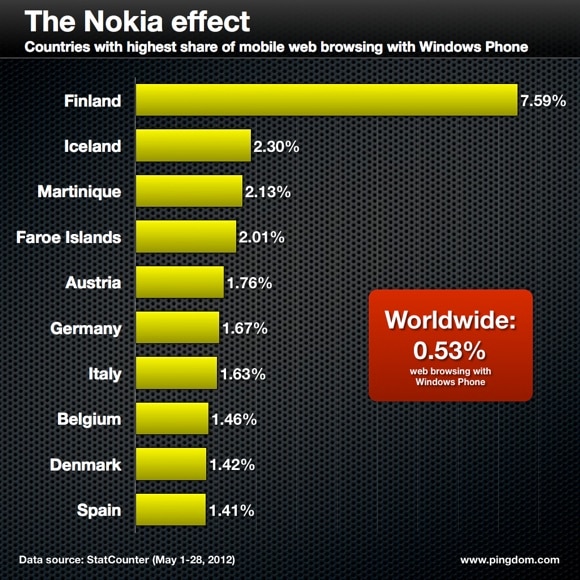 Indicator of actual market share, at best
These figures do not equate to market share as in sales, of course, but it should still give us a pretty good indication of how well Windows Phone is doing around the world. In fact, IDC puts the combined Windows Phone and Windows Mobile market share for Q1 2012 at 2.2%.
That Windows Phone was used to browse the web more in Finland than in other countries doesn't come as a surprise. But just how much more of a share of web browsing it commands in Finland is really impressive, in a way.
Image (top) via Shutterstock.