As the first country ever to break through the 60 Mbps Internet speed barrier, Hong Kong has, according to the latest figures from Akamai, increased its lead over its closest rivals.
Now enjoying an average peak connection speed of 63.6 Mbps, people in Hong Kong should be saying to themselves, "wow, that's fast." Especially when you consider that the world average peak connection speed is 18.4 Mbps.
Worldwide leaders in Internet speed
Over the first quarter 2013, South Korea fell to fourth place with 44.8 Mbps, bypassed by both Japan and Romania at 50 Mbps and 47.9 Mbps respectively.
Here's what the current top 10 list looks like (we added the United States for reference):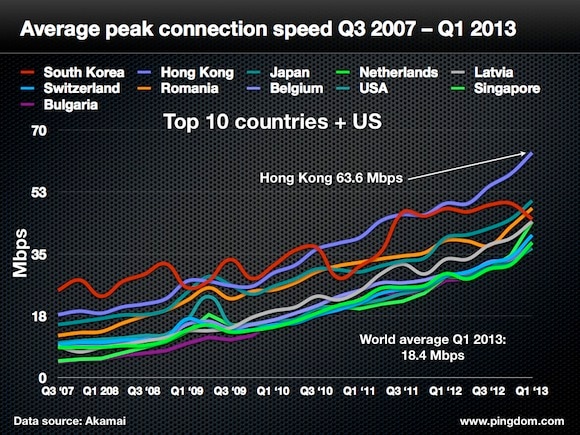 Hong Kong seems to be more and more in a league of its own. According to Akamai, this is due to investments in FTTH (Fiber To The Home) infrastructure and aggressive high speed pricing, which now seems to be paying off.
A few other things worth noting:
The global average peak connection speed was 18.4 Mbps, representing a 9.2% change quarter-over-quarter and 36% year-over-year.
Japan reached 50 Mbps in average peak connection speed during the quarter, making it only the second country to do so.
Across the world, 130 countries included in Akamai's data enjoyed higher average peak connection speeds quarter-over-quarter.
Iran saw the slowest average peak connection speed in the quarter, landing at 3.2 Mbps.
United States
Even though the United States doesn't make the top 10 list with an average peak connection speed of 36.6 Mbps, some individual states would. Topping the list is the District of Columbia, where the average peak connection speed has increased 9.4% in the last quarter, 37% year-over-year.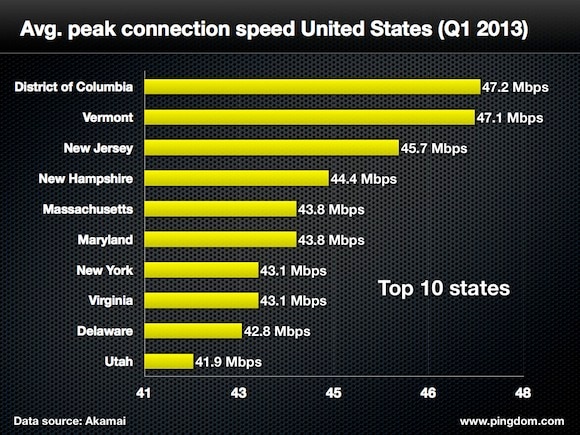 Mobile
Speeds are also increasing when it comes to mobile devices accessing the Internet. In the mobile category, Akamai includes smartphones, laptops, tablets, and "other devices that connect to the Internet through these mobile networks."
Even here Hong Kong takes the lead. But on the list of countries with fastest mobile speeds we find many that are not on the previous list including Russia in the number two spot.
Here are the 10 countries with the fastest average peak connection speed for mobile:
Akamai reports mobile speeds per network providers with a maximum of three providers per country. We only included the fastest network provider for each country.
Faster Internet broadband speed
There's no doubt that users around the world are enjoying faster Internet connections. This is good news for both users as well as businesses with websites. Obviously, if you have an ecommerce website, you want customers to experience your site just as fast as possible. Optimizing and monitoring your site is one part of the equation, how fast the users' connections are is another. You can keep an eye on how real visitors to your site experience it with Real User Monitoring. Or see how fast your website loads using our website speed tester here at Pingdom. 
What are the Internet speeds around where you live? Are you happy with the speed you get for what you pay? Let us know in the comments.
Image (top) by Shutterstock.
Note: We base this article on the average peak connect speeds reported by Akamai for Q1 2013, not the average measured connection speeds. The average peak connection speed is "more representative of the Internet connection capacity," according to Akamai.