As we say happy birthday to Linus Torvalds today, he should be a happy chap because Linux is now the dominating OS on consumer computing devices. According to IDC and Goldman Sachs, as reported by the Seattle Times, Android (which is based on Linux) runs on 42% of all consumer computing devices.
How can that be?
There's no denying the success of Linux in many areas, with Android being the foremost example. Google's Android OS had a worldwide smartphone market share of 75% during the third quarter of 2012. In September, it passed the 500 million milestone for the total number of activated devices, and 1.3 million new devices activated every day. So when it comes to smartphones Linux is doing very well.
On the desktop, Linux is also, at least by some measures, doing well. But the numbers are far from as great as for smartphones. However, in the realm of supercomputers, Linux is king.
How come Android, according to IDC and Goldman Sachs, achieves such an astounding share as 42%? It's all down to how different devices are categorized. The report bundles smartphones with tablets and computers in "consumer computing devices". And since computer sales are going down, and sales of mobile devices going up, the estimate is that Android alone will account for 42% of these devices sold in 2012.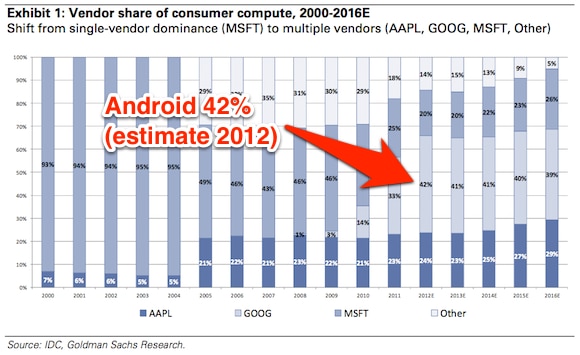 Picture from The Seattle Times.
For Microsoft the situation is not as good. The combined share of Redmond's different operating systems fell from 97% in 2000 to an estimated 20% in 2012. Apple, with OS X and iOS, grabs a 24% share.
How far we've come since Time Magazine declared the personal computer "The machine of the year" for 1982.
Linus, as you celebrate your birthday, will you contemplate the impact of the OS you created?