According to the latest global web browser statistics, Safari accounts for 7.1% of desktop browsing traffic. That puts Safari in fourth place, after Chrome, IE, and Firefox.
But where around the world is Safari really popular? There must be places where it can claim much higher figures than 7.1%, surely. Of course there are, and, as it turns out, many of them are places you go if you don't really want to pay taxes.
Top 10 countries for Apple's Safari web browser
We took a look at the latest global web browsing statistics (for July 2012) and analyzed in which countries around the world is Safari most popular. What we found was that Jersey is a veritable hotbed of Safari users with 24.4% usage share. On the tiny channel island, Safari is the second most popular browser behind IE, and neck and neck with Chrome.
Behind Jersey follows Monaco (23.1%), Guernsey (23%), Bermuda (21%), Isle of Man (17.9%), Switzerland (16.3%), and Cayman Islands (16%). See a pattern emerging here?
On the list we also find Australia, Guam, and Singapore. Here is the complete top 10 list: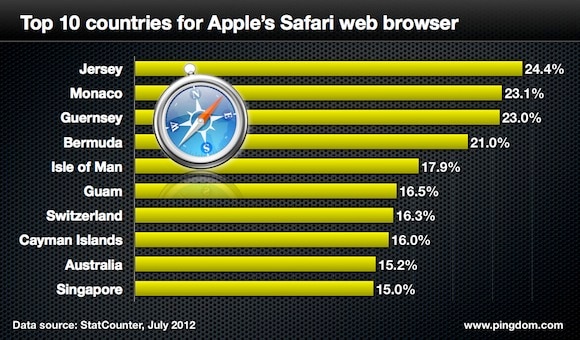 What's the explanation for this? It's hard to know, but we can guess. The sample size in most of these places is rather low, so even a small population of Safari users can greatly affect the percentage. And since many of these would be places with a rather high concentration of affluent people, the percentage of Mac users, generally speaking, is probably rather high.
In fact, 5 out of these 10 countries are also on the top 10 list of the places where Mac OS X has the highest usage share for desktop browsing traffic. Although the figures have changed some since then, you may want to check out our study from early 2011 of where in the world Macs are the most popular.
No longer for Windows but long live Safari?
Safari was introduced by Apple in 2003 and became a part of Mac OS X with 10.3 Panther. Four years later in June 2007 the Windows version joined in. With the launch of the most recent version of its operating system for Macintosh computers, Mac OS X 10.8 Mountain Lion, Apple has apparently killed off the Windows version of its Safari web browser. While the Mac version got bumped to version 6 and received lots of new functionality, the Windows version was silently put out to pasture.
On Apple's Safari page it now says just "The latest version of Safari is available in Mountain Lion." Going back just a couple of weeks, the page still displayed that Safari 5 was available as a free download for "Mac + PC."
Who will miss the Windows version of Safari? Not that many, we guess. Apart from some people in some tax havens, that is. Although it's probably more likely they run Safari on a Mac rather than on a PC.
Image (top) via Shutterstock.