As many retailers earn more during the holidays, web and application performance should be a top priority.
Surges in traffic and transactions coupled with a rise in fraud and Distributed Denial of Service (DDoS) attacks during the holiday season puts tremendous pressure on a retailer's digital infrastructure. Even an extra second in page load time or minor flaws in web performance can add up to lost sales opportunities, like what Amazon experienced in July, and diminish your brand perception.
It's time to ensure your site is in tip-top shape and ready for the busy season. While compelling content and product descriptions are important, so too is the underlying infrastructure. You'll want to ensure you have the storage, servers, monitoring, and manpower available to handle the flood of business that may come your way. You don't want to be one of the thousands of websites that are down during the best revenue-generating days of the year.
We will show you five things you can do to prepare your website for the peak holiday season. By tapping cloud resources, monitoring performance and pushing content through the edge of your network with CDNs, you can make the most of the holidays.
A Peak Period with High Stakes and No Room for Error
The holidays can make or break the entire year for many retailers. As retail is typically a low-margin industry, peak season is often the window where retailers surpass their overhead and make their profit for the year. According to the National Retail Federation, holiday sales make up 20 percent of total annual retail industry sales, and even 30 percent in subsectors such as jewelry.
Whether the consumer buys in the store or online, websites and apps are now a primary touchpoint for the industry. U.S. shoppers spent a record $108 billion online during the 2017 holiday season according to Adobe Analytics, 15 percent more than the previous year. Adobe also reported that mobile platforms made up 52 percent of all traffic to retail sites during the season and leads to a third of all online sales.
In addition to capturing revenues during the holidays, it's also a time for making lasting impressions, according to the NRF Holiday Planning Playbook. Whether or not the customer has a good experience could have long-term implications for how they perceive the retailer.
Meeting the Holiday Demand
Many retailers will spend months preparing their sites for the holidays by creating digital strategies, compelling content, and unique sales and marketing campaigns.
While these are essential elements, you must also ensure your infrastructure is ready to support the rise in visitors, transactions, and downloads.
Surges in traffic combined with a holiday season rise in fraud and DDoS attacks can easily cripple a retailer that doesn't have sufficient infrastructure in place.
Acquiring more cloud-based resources and using testing and infrastructure monitoring can go a long way to ensure your site is operating at peak performance. Here are five ways to prepare for the holidays.
1. Scale with Additional Infrastructure
While large spikes in traffic are a boon for any retailer, they can also easily stress a website. Black Friday, Cyber Monday, the second Monday in December, last two weekends before Christmas, and Christmas Eve are examples of significant increases in online shopping and website traffic during this time of year. The increased loads on servers can slow down loading times, lock up pages, and prevent transactions. This results in a poor experience for users, diminished brand perception, lost sales opportunities, and even potential overcharges for bandwidth.
The reality is that the infrastructure that supports your site during the rest of the year may not hold its weight during the holidays. While retailers have often responded by buying additional servers to accommodate these periods, it's a waste of capital when that equipment collects dust the rest of the year.
A better way to address server capacity is to scale up additional infrastructure through the cloud. Storing information on the cloud, rather than physical servers, is less expensive and easier to implement. In addition to eliminating server maintenance and reducing the risk of physical equipment failure during the holidays, you also only pay for what you use so it works perfectly in environments where there can be significant spikes in workload.
According to Build with Google Cloud, retailers should stress test their infrastructure in advance then use machine learning to forecast demand and determine their potential server needs. Easy-to-use cloud servers such as Amazon Lightsail and Rackspace now enable you to quickly add new storage servers and computing capacity as needed.
2. Use Uptime Monitoring
With high traffic volumes and consumers ready to spend, every minute of uptime matters during the holiday season.
Unfortunately, many retailers don't discover problems or poorly-performing pages until customers complain. And by that point, they've likely already lost thousands in potential sales and left a bad impression with some shoppers. First impressions are important, and competitors are just a click away.
Availability monitoring can reduce unnecessary downtime and save sales by immediately notifying you of an issue. Speed, availability, and addressing such issues promptly are critical at a time when consumers have little patience and such high expectations for technology.
Pingdom looked at the websites of the top 50 retailers and found that the average uptime was 99.03%. While this may sound great, it equates to more than three and a half days of downtime over the course of a year.
Effective availability monitoring can help maximize uptime and test site availability from multiple locations. In an event that a page does go down, even for just a few minutes, you should have customizable public status pages that point consumers to a phone number for easy ordering.
Pingdom's uptime monitoring tool can test your site availability around the clock from more than 70 test server locations around the world. It can then perform a Root Cause Analysis and help resolve the issue by identifying the output from a web server and examining server response codes.
<center
3. Use Content Delivery Networks
It is essential to ensure your content is reaching all users because web traffic and orders can now come from anywhere in the world during the holidays.
Even with all other things equal, web page load times can vary tremendously across the globe. So, while your pages may load quickly in San Francisco, it doesn't mean shoppers in New York or Germany are having the same holiday experience at your site.
A content delivery network (CDN) can improve performance across the globe by caching content at the network edge. CDNs are geographically distributed groups of servers that work together to speed up page loading and the transfer of assets.
Using a CDN during the holidays can help your site scale for the increased traffic, reduce hosting bandwidth, improve security, and prevent interruption in service. The resulting faster load times can also reduce bounce rates and increase the amount of time consumers stay on your site. And as you're likely to see a big spike in traffic during the holidays, a CDN can increase content availability and redundancy to reduce the risk of interruptions.
There are many CDNs available to small businesses. Services such as Amazon CloudFront and CloudFlare enable retailers to easily cache their content on dozens of data centers around the world to ensure their sites load quickly.
One way to gauge your need for CDNs is to test how quickly your site loads in your most important markets. SolarWinds offers Pingdom Page Speed Monitoring that measures and grades your load times from over 80 locations around the world and provides impact insights so that you can make necessary steps to correct, quickly and easily.
4. Employ Stress Testing
While retailers may be able to gauge the maximum bandwidth of their sites, they can't always know how many visitors they'll receive or how their site may perform under the pressure.
Retailers should stress-test infrastructure well before the holidays to identify and address any issues with limitations, stability, capacity, or resilience.
Load testing and stress testing simulates the real-world impact on your website or application to see how it will behave during peak periods. It measures speed and response time under various loads to determine when bottlenecks may occur or when a system may become unstable. Discovering these vulnerabilities in advance of the holiday season can help you better prepare, whether that involves adding more cloud resources or employing CDNs.
You can use tools such as WebLOAD or even the open source tool, Hey to test the limits of your website and see how your servers may respond with a surge of users from around the world. These tools can measure average response time, pinpoint areas of congestion on your web server, and then establish baseline performance metrics.
The Pingdom Real User Monitoring tool can also measure how your site responds to loads in production. It will measure performance from real users around the world. We even used it to fix performance issues.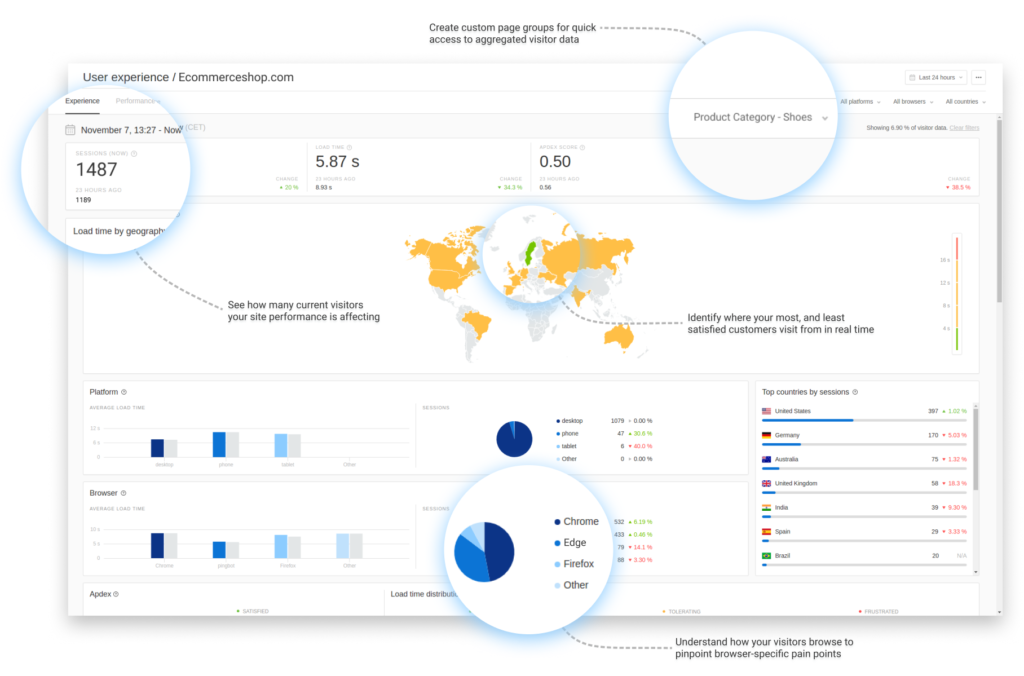 5. Develop an On-Call Schedule
Because even the best solutions can require human intervention, retailers must ensure they have the talent available to respond to web emergencies during peak shopping seasons.
Most retailers suspend new feature deployments during the peak shopping seasons to reduce the risk of introducing new bugs and to reserve labor for addressing urgent issues. Yet because timing is so essential and because ecommerce takes place around the clock, retailers should create an on-call schedule for their development team during the holidays.
A survey from Workarea found that prime time for online shopping typically runs from eight to 10 p.m. and that many conversions happen on the weekend. Retailers should establish a rotating schedule of developers who can be on call 24 hours per day throughout the holidays.
As the holiday shopping season is so critical to your profitability, you can't afford to leave anything to risk with your website. Start now to ensure your digital infrastructure is ready to meet the demands. Setting up Pingdom for uptime and real user monitoring only takes a few minutes. Each shopping day for the remainder of the year can have a dramatic impact on your entire year's business results. There is still time to maximize the availability and performance of your website. Make sure when your traffic is spiking so is your revenue.
Learn more about how SolarWinds® Pingdom® can help you manage critical website performance or sign up for a free trial.