What Is an SSL Certificate?
You may have noticed some URLs have the added S after "http." This means a site has SSL security. SSL stands for Secure Sockets Layer. It keeps sensitive information, like social security numbers, credit card numbers, login credentials, or medical records, from being intercepted by encrypting the data while it passes between servers. Now, you might be thinking, if I don't sell things online then I don't need SSL security. Think again. Establishing SSL security proves you're the legitimate and verified owner of your site, shows you're serious about security, helps earn trust from customers, and can boost your rankings in search results. An SSL certificate shows website visitors you care about protecting your customers and your business reputation.
Why Monitor Your SSL Certificate?
The short answer: because security matters. But let's first address what happens when your certificate expires. When your SSL certificate has expired, and customers try to access your site, they'll see what looks like an error message saying the site is unsecure. Their browser is going to tell them your website isn't safe because the connection isn't secure. It's tough enough to get customers to visit your site and stay on your site long enough to get engaged or make a purchase decision, and now they're trying to get to your site and are greeted with a warning. Obviously, this kind of experience results in bounced visitors and abandoned shopping carts—not to mention a hurt brand image.
You don't want customers associating your brand with being unsafe or unsecure. You want them to always trust your site and be able to access it right away. By monitoring your certificate, you're making sure you know when it's about to expire. You can set an alert for 10 days before or two days before it expires, it's up to you. But this way, you don't risk forgetting to renew your certificate and you avoid an unsettling experience for your customers. Monitoring your SSL certificate will ensure you're notified before the certificate expires—saving you lost visitors, frustrated customers, and lost revenue.
All Aboard the SSL Check
Let's talk about how easy it is to monitor your SSL certificates. With SolarWinds® Pingdom®, you can get notified when certificates are about to expire. There are only four steps: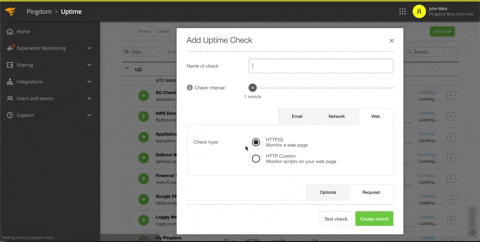 Add an uptime check.
Select https:// from the URL/IP dropdown.
Toggle to Optional. "Monitor SSL/TLS certificate" will be checked for you. With this enabled, this uptime check will be considered "down" when the certificate becomes invalid or expires.
Input how many days before the expiration date you want to be alerted. On this day, your check will be considered "down" and if applicable, a down alert will be sent to you.
See for yourself in Pingdom. Log in here.
Don't have a Pingdom account? Start monitoring today with a free trial and get your first 14 days free.