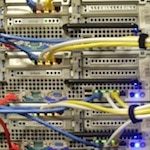 A lot of things are happening at Pingdom, thanks to you, our dedicated customers. Looking back at the past six months or so we can note that we've become a LIR, migrated more than 250k users to a new platform, launched a new control panel, and much more.
That's not even mentioning the new office we moved into earlier this year and all the great new geeky additions to the team. But we're really only getting started, and we wanted to give a look at the future.
We're making these investments, of course, because we want to deliver the best possible service in uptime and performance monitoring. You keep giving us feedback on what kind of functionality you'd like to see us including in future releases, and we'd like to think we listen to what you tell us.
We have several new and exciting products and additions under development and to support them we've invested in some new hardware. Exactly what we'll be doing with all this new gear is something we'll have to keep under wraps for now. But we promise that we will let you know just as soon as possible.
The bulk of the new gear was installed last week and we wanted to give you a sneak peek behind the scenes.