The growth of the microblogging platform Tumblr has been nothing short of amazing. The increase in users and overall attention the service is getting is reminiscent of when Twitter took off. There are now almost 28 million blogs on Tumblr. A year ago there were seven million.
As if that wasn't impressive enough, Tumblr users will soon have cranked out a whopping 10 billion posts. That's a huge milestone for Tumblr. At the current rate of more than 37 million posts per day, this should happen in about a week.
(By the way, if anyone at Tumblr is reading this: Congratulations, guys!)
Tumblr's posting pace
The average number of new Tumblr posts per day seems to hover somewhere around 37.5 million. For now, we should add. That number will of course increase over time as Tumblr grows.
So, what does 37.5 million daily posts translate to? We broke it down into different time units.
434 posts per second
26,000 posts per minute
1.56 million posts per hour
263 million posts per week
1.1 billion posts per month
13.7 billion posts per year
At the current rate, the number of posts on Tumblr will pass 20 billion in nine months. Considering how Tumblr usage is increasing, though, we expect that to happen a lot sooner.
Such a huge influx of posts could of course put a strain on any web service, but we suspect the biggest challenge for Tumblr isn't really getting all those new posts into their system. The greater challenge is bound to be the serving of all that content to readers and handling all the other interactions those posts create.
Which leads to…
A gazillion page views
That many users and posts – Tumblr users are a productive bunch – will of course translate into an ever-increasing number of page views keeping Tumblr's servers busy.
Mirroring how the number of posts is growing, the page views are definitely going through the roof. According to Quantcast, the Tumblr blog network now serves 12.5 billion page views per month, and that number is growing fast.
With that kind of growth, the engineers at Tumblr have their work cut out for them, scaling the service to meet demand. We suspect they're pretty happy about having this "problem," though.
Tumblr is hot on Google, too
It's not just about traffic, Tumblr is gaining some serious mindshare as well. Judging by Google Trends, overall interest in Tumblr is skyrocketing, which can only be a good thing for the service.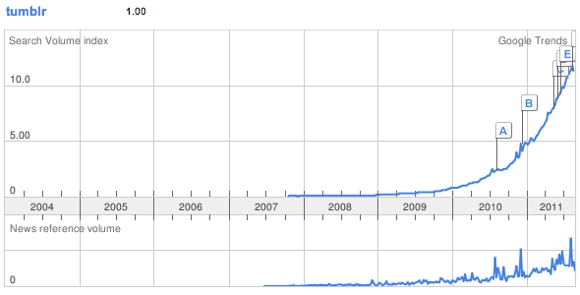 And don't forget the second, smaller chart. As you can see by the "news reference volume" at the bottom right in this chart, the media is covering Tumblr more and more.
Let's just say that 2011 is looking like a pretty great year for Tumblr.