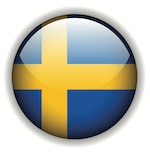 Pingdom has studied the uptime of the official websites of all 290 municipalities in Sweden during July, and we can now present that only 17% of the sites scored a perfect 100% uptime. In this study, we also identify the 20 municipalities with the worst uptime record in July.
It's clear on the basis of this study that website uptime is something that many municipalities in Sweden continue to struggle with. Availability of their websites and other online services is a key issue that needs to be dealt with, as more and more local governments around the world, including municipalities, take to the Internet for communicating with residents and conducting business.
Average availability in July was 99.58%
Pingdom's network of monitoring locations has been checking the websites of all 290 municipalities in Sweden since June. Our system connects to each site once every minute and record if the site is up or not, and the response time of the site. For this study, we focus on the month of July, but we continue to monitor the status of each site and you can follow that at png.dm/svenskakommuner.
After going through the data, we can see that 49 websites scored a perfect 100% uptime during July. That represents 17% of the 290 municipalities in Sweden. In total, 86 sites delivered at least 99.99% uptime, and 197 sites showed an uptime for the month of 99.9% or better.
The average uptime for the Swedish municipality websites was 99.58% and the median 99.97%.
Distribution of uptime

| | |
| --- | --- |
| Uptime | Number of sites (out of 290) |
| 100% | 49 |
| >= 99.99% | 86 |
| >= 99.9% | 197 |
It's worth pointing out that with an uptime of 99.99% over a month a website would be down only 4 minutes during that period. With an uptime of 99.9%, the number would be 43 minutes. You can further explore that with our handy uptime conversion chart.
The 20 Swedish municipality websites with the worst uptime in July
We would like to congratulate the municipalities with perfect uptime, but we won't list them in this article. What is actually more interesting is to see which sites performed the worst during the month. Here is a list of the 20 Swedish municipality websites with the worst uptime in July.
As you can see, Horby.se, the site with the least amount of uptime was down for a total of almost 6 days during July. All in all, 12 sites out of the 290 experienced a combined downtime in July exceeding 1 day.
Long outages occur often during weekends
Something we've noted when doing similar studies in the past is that the longest outages tends to occur on weekends, when presumably there is fewer staff on hand to take care of the issues arising.
This is the case again in this study. For example, in Lerum on the 7th of July, which was a Saturday, the site was offline for almost 24 hours, the longest outage by far we recorded for that municipality. A similar situation occurred in Vara and Oskarshamn on the 28th (a Saturday), as well as in Enköping and Dals-Ed on the 7th.
A contributing factor to this issue in this particular case may of course be that July is a month where many employees in Sweden are on vacation.
Uptime remains an issue
As we congratulate the municipalities with a perfect uptime, we note that website availability remains an issue for local governments in Sweden. There is no doubt that municipalities are moving more and more services online. We would, therefore, certainly encourage all the municipalities to keep a vigilant approach to monitoring and improving the availability of their websites, and, where possible, improve the uptime.
We don't know how this compares to municipality websites in other countries, but such an international comparison would indeed be interesting. That's something we'll look into doing in the future, as well as looking at other levels of government.
Image (top) via Shutterstock.