Website Uptime Statistics – Analyze Your Site Availability
Website uptime statistics help you better understand the time and length of every downtime and how it could impact user experience. Use SolarWinds® Pingdom® website monitoring to help you gather evidence about website availability to identify areas in need of improvement.
Collecting Website Uptime Statistics
Website uptime monitoring is an important tool to help ensure all users in all corners of the globe get uninterrupted access to your online services. Even a few seconds of downtime can have dire consequences for your online presence. With Pingdom, you get constant website uptime checks and real-time alerts to quickly begin remedial action in case of an outage.
Availability checked once a minute, worldwide – Pingdom pings your website every minute to confirm the server is responding. The moment the server stops responding, you'll receive an alert. Using a network of more than 100 servers located across the world, website availability is verified for all visitors, regardless of their location. Your website uptime statistics will give a true understanding of the user experience for visitors from across the world.
Searchable test history – Pingdom keeps a record of tests, allowing you to analyze uptime, page speed, and transaction performance. The Uptime Test Result Log is available for download as a CSV file, limited to 10,000 lines per download (about seven days of data with the default one-minute interval). The transaction monitoring data has unlimited data retention, while reports on load times as experienced by actual visitors (Visitor Insights) cover up to 400 days depending on your plan.
Instant notifications of problems – Pingdom monitors uptime as well as crucial website interactions, such as the sign-up process. In case of an issue, you can get an alert through email, SMS, push notification, or a collaboration platform of your choice, including Slack, PagerDuty, and OpsGenie.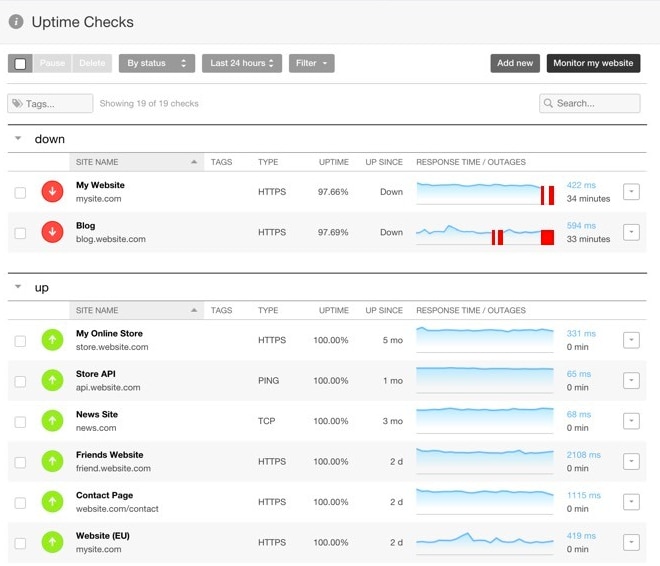 While monitoring website uptime is crucial, Pingdom offers much more to help you boost web performance and digital user experience. A comprehensive suite of additional tools allows you to deal with performance bottlenecks.
Real user monitoring (RUM) – Drill into live user sessions to see exactly what each individual visitor sees as they interact with your site. By tracking actual user journeys, you can verify what load times your visitors experience, which may differ greatly from load times measured in a testing environment.
Visualize the page loading process – The Pingdom Filmstrip feature captures screenshots of your pages at 500ms intervals as they load. With a visual record of how the page downloads, you can improve the user experience by identifying bottlenecks and reordering page elements.
Testing scripts and queries – Pingdom page speed monitoring analyzes every element of every page to give you a true understanding of how the page loads, and where your code is underperforming. You'll get a granular overview including HTML, CSS, Javascript, and images. With tests executed every 30 minutes you'll quickly gather enough information to analyze uptime and identify low-level performance issues affecting user experience.
Super-simple setup – Pingdom takes less than one minute per page to set up. Just add your page URLs and Pingdom does the rest. It will begin collecting web performance and availability statistics immediately.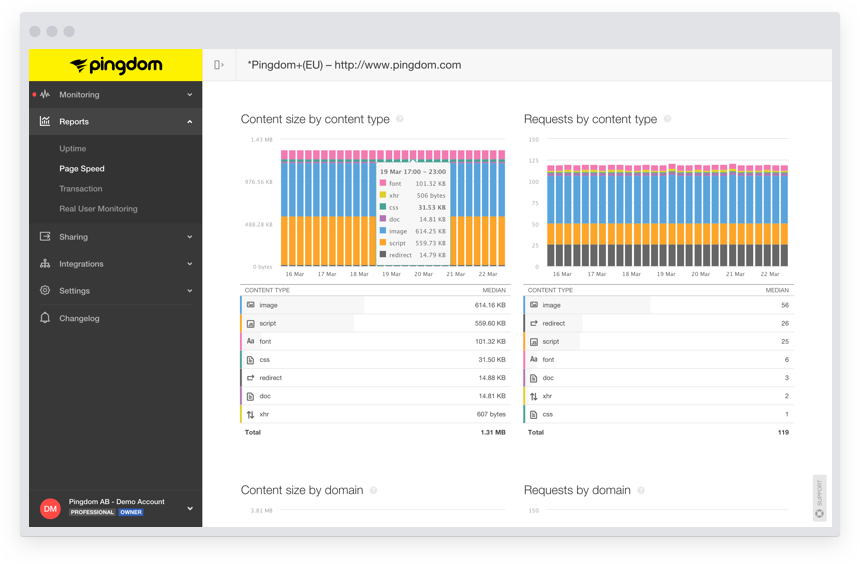 Try it free for 30 days
Start monitoring your website's availability
START 30-DAY FREE TRIAL
Get started now and you can cancel any time.