Website Status Checker – Real-Time Information
A website status checker detects website outages in real time and sends automatic alerts so troubleshooting can begin immediately. It helps ensure visitors get uninterrupted access to your online services.
Check Website Status Automatically
SolarWinds® Pingdom® monitors website performance in real time, delivering your business an advantage over competitors who may rely on simple manual tests and log file analysis. With Pingdom, you can quickly identify problems and begin work to restore regular service immediately.
Statistics updated every 60 seconds – Pingdom checks website status once every 60 seconds and alerts you the moment an issue's detected
Real user monitoring (RUM) – Control what visitors see as they interact with your website. You can verify whether page elements are loading correctly and check if your visitors are receiving the high-quality browsing experience they demand
Check website status from many locations – Using a network of more than 100 probe servers located in data centers around the world, Pingdom can confirm your website is available to all users independent of their location. The use of global checking tools highlights local issues (like CDN outages) needing to be addressed
Instant notifications – Pingdom allows you to configure automated notifications based on website status or website transactions. Whenever something fails, you can help ensure the correct person is alerted through their preferred channel, such as SMS, push notification, email, Slack message, and more. You can choose how quickly alerts are sent and get them resent up to four times after the initial message
Website monitoring information helps you deal with emergencies and assessing the outcomes of performance tweaks and new features. Pingdom lets you analyze the results of historical tests, providing a way to identify long-term, low-level intermittent issues affecting website stability and page load times.
A record of web performance insights – Pingdom stores the history of test results for your tracking and analysis. Visitor insights reports provide visibility into the history of page load times as seen by your actual visitors. The data retention period for these reports is between 35 and 400 days depending on your plan. Page speed reports also give you an overview of each test made during a two-week period
Loading state reviews – The process of loading webpages consists of separate steps called loading states. Pingdom monitors each loading state to see how site performance is affected and marks the exact point at which errors occur
A visual aid to understand load times – Each time you run a page speed check, you can see at what point each element was loaded in the waterfall graph. In addition, you have a filmstrip view including screenshots captured every 500ms, showing the site elements present. You'll discover how long it takes for critical elements to display on the page and optimize the order in which they load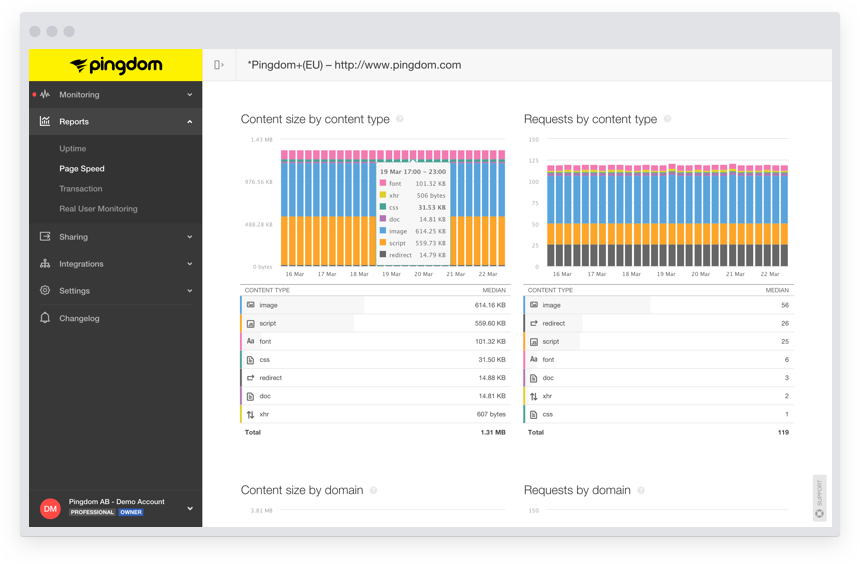 Try it free for 30 days
Start monitoring your website's availability
START 30-DAY FREE TRIAL
Get started now and you can cancel any time.