Website Speed Analysis – Check and Analyze Website Speed
How quickly your webpages load is a significant factor in your customers' buying decisions—which is why effective website speed analysis is so important. With SolarWinds® Pingdom® you can test and monitor load times, and analyze all issues causing the delays.
Just How Fast Is Your Website?
A poor-performing website can drive potential customers away, so you need to help ensure your pages are fully optimized for the fastest possible load times. Usually there are multiple issues in play—and Pingdom allows you to see them all.
Going beyond speed – Page load time is a useful, but incomplete, metric. Server response times, time to start render, time to interact, and more provide insight into website load and response times, and provide opportunities for optimization. Pingdom allows you to record and analyze all these metrics and much more.
Every page element analyzed – Effective website speed optimization means tuning every element for maximum performance. Pingdom tests every single element to identify bottlenecks, from image downloads, to backend SQL query execution times. Aggregated performance grades summarize the results of every test performed and provide an action plan for improvement.
Granular reporting for total visibility – Analyze the performance of every single website element in minute detail. Waterfall charts guide you through the page load process, detailing everything you need to streamline your most crucial webpages.
At-a-glance output – Easy to understand reports and charts highlight the most important findings so you can begin corrective work immediately. And because the reports are so easy to understand, you can share your findings with non-technical colleagues too.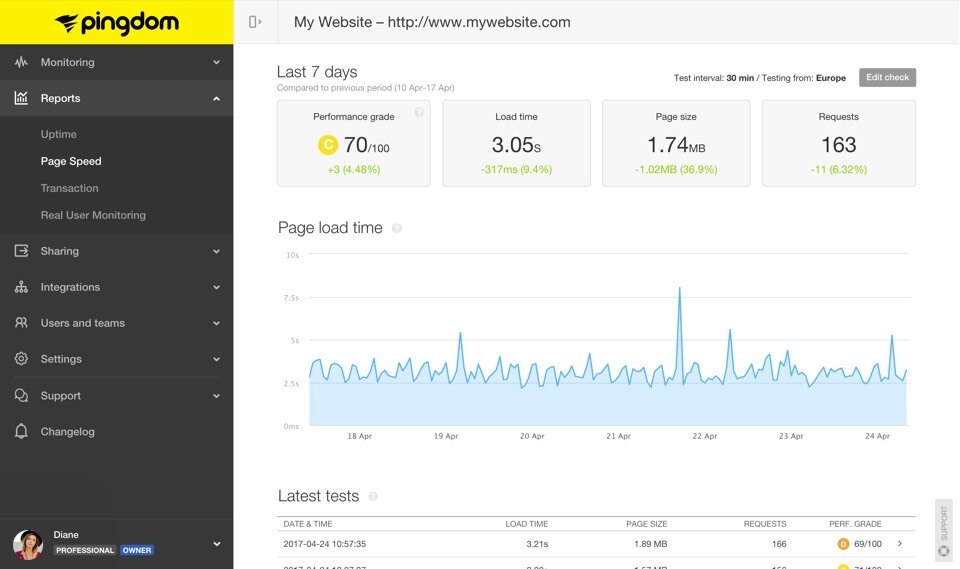 More than simply checking website speed, Pingdom also accelerates your development team's response to issues. The more quickly you identify load time issues, the more quickly they can be resolved.
Quick and easy deployment – Pingdom is so simple to set up you can begin generating website analysis reports for a range of metrics in less than one minute. Simply enter your URL and select a testing region. That's it! Pingdom will test how quickly your page loads automatically every 30 minutes.
Groupware alerting – When test results fall outside acceptable thresholds, or the site goes offline, Pingdom will send instant, automated alerts to your team. Fully configurable messages can be sent via email and SMS, mobile app push notifications, or piped to your developers' groupware channel. With support for Slack, PagerDuty, HipChat, and more, no one will miss the message.
Page load snapshots – The filmstrip feature captures the elements present on the site every 500ms for the duration it took to load the complete page. With a visual record of the loading process from the user's perspective, you can begin work to improve load speed by focusing on the pages that contribute to conversions.
Global testing network – Pingdom uses a global network of testing centers to check website speed in more than 100 territories. You can now accurately analyze the user experience from anywhere in the world and highlight localized issues that require additional investigation.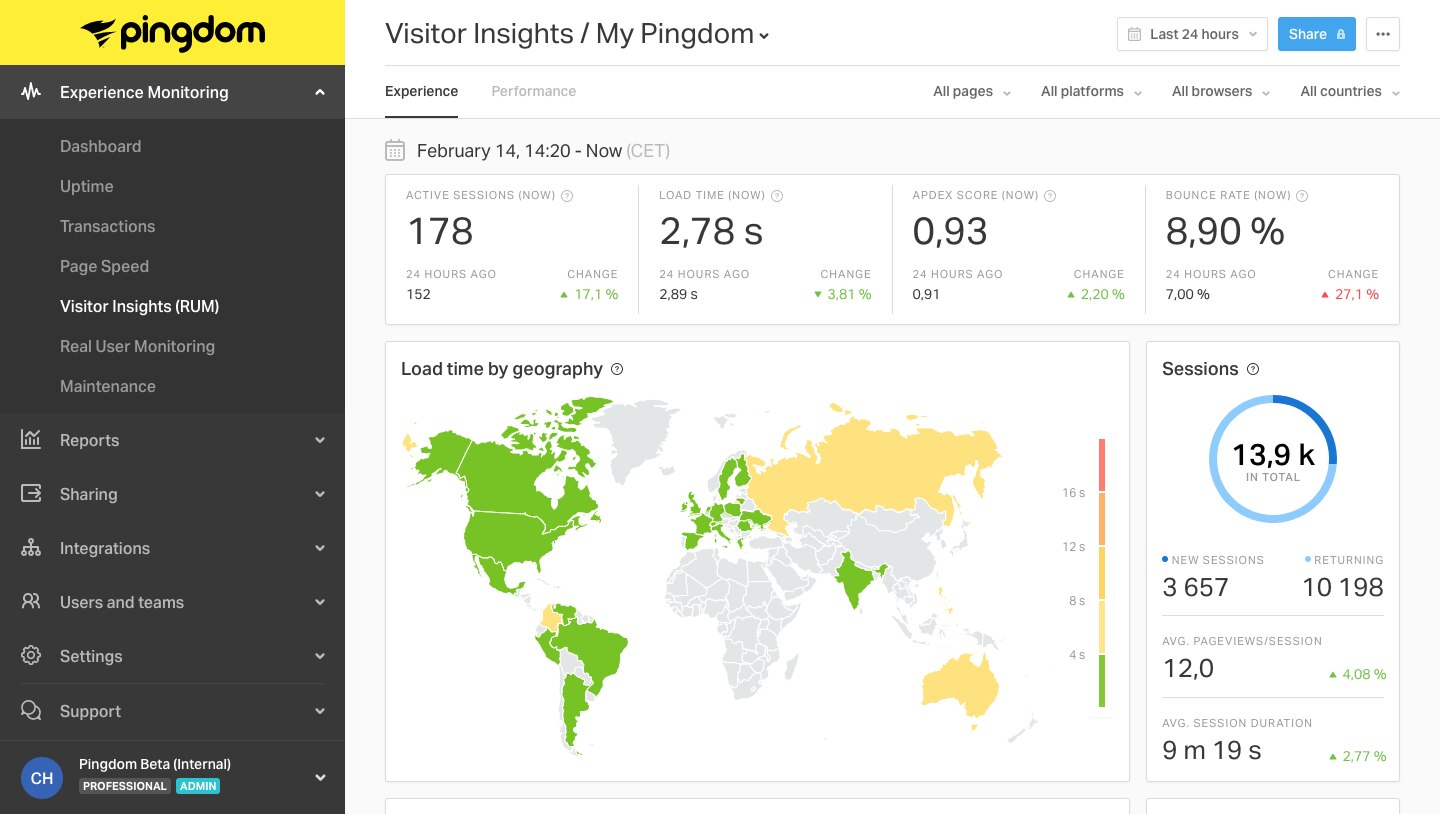 Try it free for 14 days
Start monitoring your website's availability
START 14-DAY FREE TRIAL
Get started now and you can cancel any time.