Webpage Performance Monitoring – Analyze and Track Availability
Webpage load speed and responsiveness is crucial to the quality of user experience. SolarWinds® Pingdom® webpage performance testing tools give you real-time insights into exactly where load time savings can be made—and suggestions about other potential improvements too.
Granular Insights From the Page Performance Analyzer
Raw page load speeds are useful, but don't typically provide enough insight to make targeted, effective improvements. Without specific goals, your improvements will be based on estimates and guesses. Pingdom can remove that uncertainty by showing precisely where page elements are underperforming.
No matter how beautiful your site is, the quality of user experience will heavily depend on page speed. Pingdom page speed monitoring helps you uncover all factors that affect page performance and load times.
Homepage performance tests are executed from a range of endpoints to accurately assess performance for users across the world. Pingdom performs tests from 100+ probe servers located across the U.S., Europe, Asia, and Australia to give a complete understanding of global website behavior.
Filmstrip and timeline metrics help you get a better understanding of how your page loads during speed tests. The filmstrip feature takes a screenshot every 500 milliseconds for as long as it takes to load the complete webpage showing all elements present on the site. The Timeline metrics allow you to quickly identify how long it takes to reach important stages of page load, including time to first byte, and DOM (Document Object Model) content loaded.
Get started using Pingdom through the simple, web-based control panel. Just enter your webpage URL, select a testing region, and Pingdom will carry out webpage performance monitoring tests automatically, every 30 minutes. This is the ultimate set-and-forget performance monitoring solution.
Performance is just part of the story. Pingdom provides a complete website uptime monitoring solution too. If the site goes down, we'll let you know. Immediately.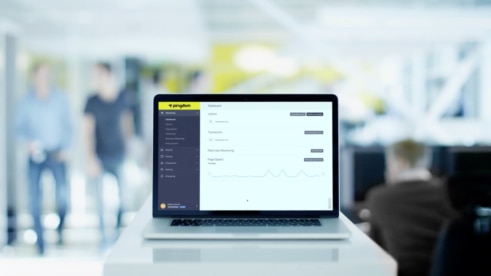 Try it free for 14 days
Start monitoring your website's availability
START 14-DAY FREE TRIAL
Get started now and you can cancel any time.