Analyze Ping Response Time
With SolarWinds® Pingdom®, you can automate ping tests to simplify website troubleshooting. Analyze ping response time and gain immediate insight into your website performance.
Check Ping Response Times – And Much More
Increasing ping response time is one of the first signs your website is experiencing web performance issues. A tool automatically pinging the server and sending alerts the moment a problem or slowdown is detected helps you ensure an uninterrupted experience for all visitors.
Fully automated testing – Pingdom tests your website as often as once every minute to help ensure issues are quickly detected. Automated analysis means you'll be notified as soon as the system detects an anomaly.
Distributed testing network – Using a network of over 100 test servers, Pingdom provides insight into ping response times from across the globe. You can analyze performance on both a regional and global level to understand variances in user experience.
Set and forget – The Pingdom setup process is super simple. Just enter your website URL, and Pingdom does the rest. The platform will continuously monitor your page performance for as long as you need.
Availability alerts as a standard – If your site's ping response time exceeds acceptable thresholds or stops responding, Pingdom will immediately let you know. Automated notifications can be sent via SMS, email, and app notifications to always keep you in the loop. You may also use your tech support chat, such as Slack, OpsGenie, or PagerDuty, so the correct person can rapidly start the troubleshooting process.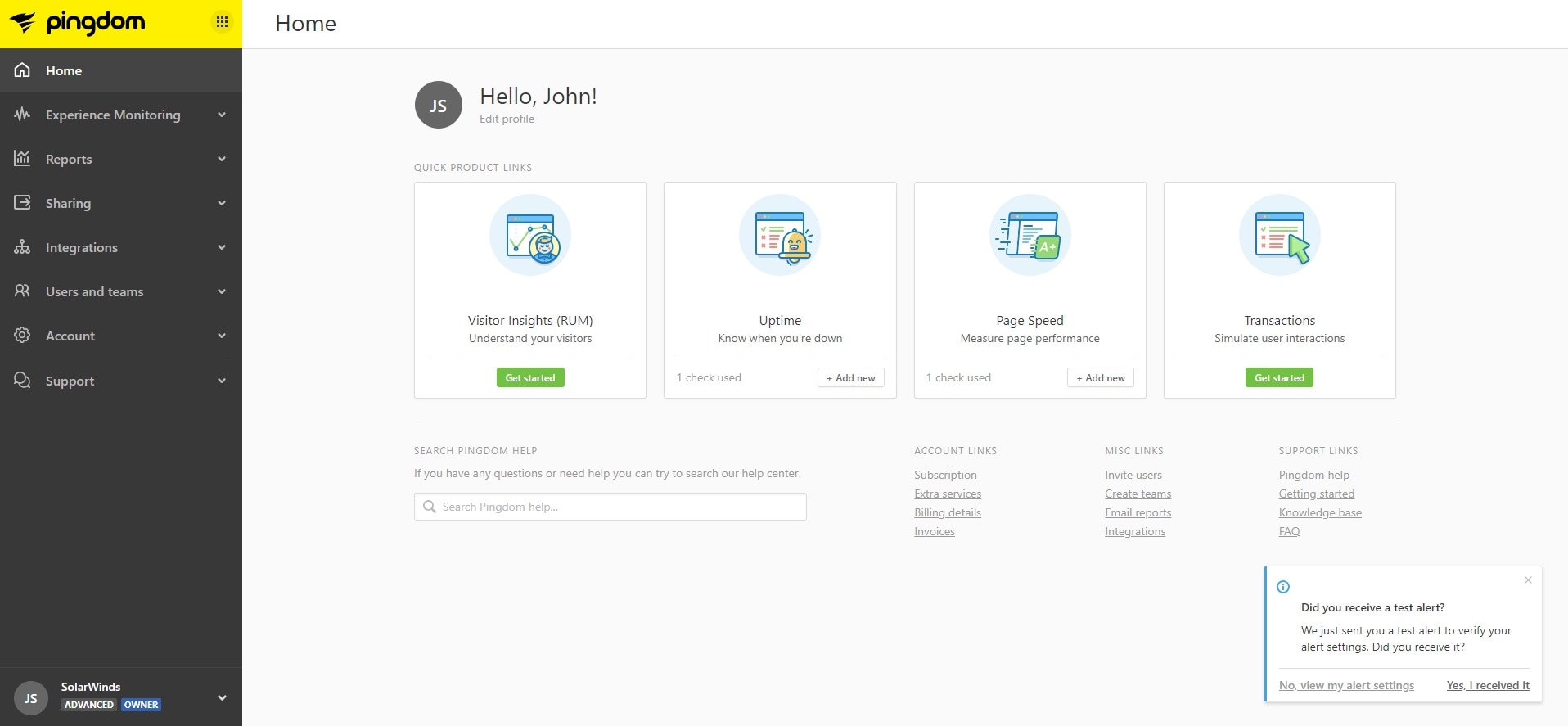 Monitoring ping response times is just one aspect of helping ensure a top-notch web performance for all visitors. Pingdom offers more features to help you better understand what causes delays in load times.
Visual page load reporting – The Pingdom Filmstrip capture system records every page element as it loads—taking a screenshot every 500ms. By analyzing how and when each element appears on the screen, you can optimize the loading order to increase page speed and help ensure key use information is displayed first. This may allow visitors to start interacting with your website even before everything loads.
Real user monitoring (RUM) – Pingdom helps you better understand how actual visitors experience your website and what's causing delays in their load times. These insights identify which website elements are most in need of enhancement. With real user monitoring, you can analyze how changes in web performance affect your actual visitors' experience.
Synthetic transaction testing – Pingdom also tests the most crucial website transactions and alerts you each time there's an issue. You'll get notified as soon as your visitors may experience problems completing the purchase or the sign-up process.
Try it free for 30 days
Start monitoring your website's availability
START 30-DAY FREE TRIAL
Get started now and you can cancel any time.