Real User Monitoring
When it comes to website performance, there is one question more interesting than all others—how fast does my website load? Maybe you want to know how fast your website loads for users on a specific browser, device, or country? Pingdom® Real User Monitoring collects real data from all site visitors.
Real users and real data
So you want to know more about how users experience your website. Answers to questions like: Are they satisfied or frustrated with the load time? With Pingdom Real User Monitoring, it's easy to get more knowledge how your website performs from a specific country or web browser.
Real-time visits — See individual page loads as they happen on your website. Get answers to questions like, where do visitors come from, which browser do they use, and most importantly how fast did the page load.
Geographical performance — How does your website speed compare between the U.S. and Japan, for example? Chances are a particular part of the world is important to your business, help make sure your website is performing and delivering a higher quality experience for all your customers.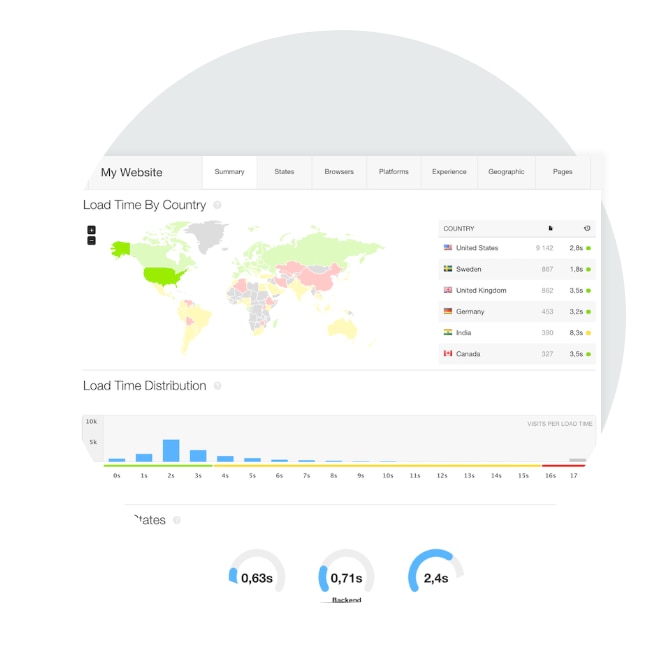 Take full advantage of the web performance monitoring features that come with Pingdom so you can analyze what's slow on your website, and help ensure you give your visitors the best experience.
Latest performance trends — View trends to spot any changes in load time that happened over time. For example, if a peak in load time coincided with a peak in the number of visitors and how it compares to previous load times.
Your long tail of performance — Every visitor will have a different experience depending on where they are, what device they use, their connection, etc. Pingdom will let you see every user's experience, even the long tail of users who see slower loads. The long tail of load times for your site is worth money.
Understand and examine everything — The process of loading a web page consists of separate steps called loading states. When you click on a link in a web browser to go to a web page, a complicated process starts. If you're a webmaster, monitoring this process to see how the site performance is affected can be critical to delivering a good user experience to your visitors.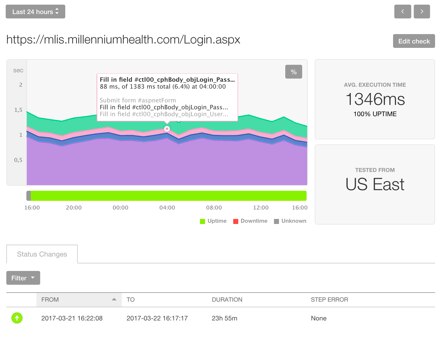 Try it free for 14 days
Start monitoring your website's availability
START 14-DAY FREE TRIAL
Get started now and you can cancel any time.