Mobile Web Performance – Track Load Times For Mobile Users
In a world where smartphones are the go-to devices to access online content, mobile web performance is crucial to online success. Track how fast your site is for both mobile and desktop users with SolarWinds® Pingdom®.
Monitoring Uptime and Getting Outage Alerts
Your website speed on mobile devices may not necessarily be the same as on desktop due to network limitations, data throttling, and many other factors. However, uptime needs to be monitored in the same way for desktop users. You need a network of test servers in various locations that can ping your website regularly to detect if there's a response. The lack of response should trigger an immediate alert. This is what Pingdom offers.
Server availability testing – Pingdom will ping your server every 60 seconds and send you an alert the moment no response is detected. To detect location-specific issues, such as a CDN outage, Pingdom uses a network of more than 100 test servers to help ensure all users get uninterrupted access to your website, regardless of their location. What's important is that an uptime check from many locations still counts as one check against your Pingdom quota.
Website status alerts – Pingdom sends notifications in case of an outage or one of the crucial transactions being unavailable or too slow. Alerts can be sent via a range of channels, including text messages, push notifications, emails, or group messaging platforms, such as Slack®. This way, you can help make sure the correct person gets notified about an outage in the most suitable way, so the troubleshooting process can start as soon as possible.
Historical data for your analysis – Pingdom performs numerous tests you can later analyze to see the impact of website changes on web performance. Transaction tests are kept forever, while user-specific data available in the visitor insights report is stored for up to 400 days. Data retention period for page speed tests is two weeks.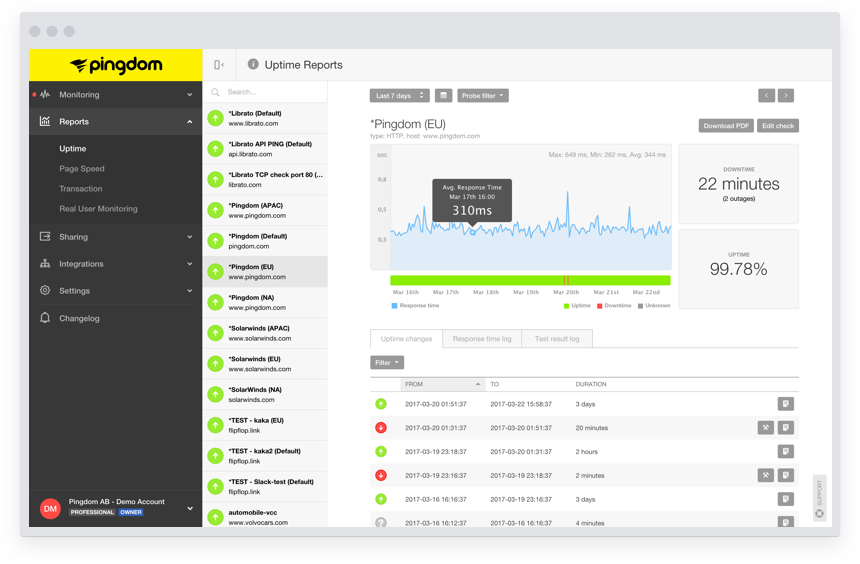 Monitoring uptime is simply one part of the story. At the end of the day, it's actual users' experiences that truly matters above everything else. Pingdom offers handy tools to help you verify how fast your site is for actual visitors, which website elements are underperforming, and how to improve them.
Complete page speed analysis – The most performant websites fine-tune every page element for maximum speed and reliability. Pingdom page speed monitoring tests webpages to identify bottlenecks. You get a detailed overview of what works and what doesn't, including image download speeds, SQL query execution times, script errors, etc. Pingdom then assigns aggregated performance grades that summarize the results of every test and provide an action plan for further optimization.
Real user monitoring – Pingdom helps you analyze load times not only in a testing environment, but also as experienced by actual visitors. Use the real user monitoring (RUM) feature to analyze web performance in real time to quickly identify which aspects of your website are most in need of improvement.
Transaction monitoring – Some interactions on your website are more important than others. Pingdom lets you monitor the most crucial website transactions to ensure users can sign up, add items to the shopping cart, add credit card details, complete purchases, etc. You'll get alerted if any of these interactions are unavailable or too slow.
Try it free for 14 days
Start monitoring your website's availability
START 14-DAY FREE TRIAL
Get started now and you can cancel any time.