Page Performance
Go beyond basic availability testing to get insights into page performance and the true user experience. For full webpage optimization, you need a tool that tests and analyzes how quickly each website elements loads.
Page Performance Analyzer for Optimal User Experience
More than a website availability checker, SolarWinds® Pingdom® is a complete suite of webpage performance testing tools. You can take care of your performance monitoring checklist and help ensure all pages are loading optimally from a single dashboard.
● Global network of test servers – With customers and visitors across the world, you need consistent website performance wherever they are. Pingdom uses a network of 100-plus probe servers, strategically located, to provide an accurate understanding of page load times (and more) from anywhere in the world.
● Page performance tool – Help ensure your load times are within acceptable limits with deep page analysis. Pingdom reveals bottlenecks that are slowing the site down, from oversized images to SQL database queries that require optimization.
● Automated script and query testing – Pingdom setup takes less than a minute per page. Just add your URLs and the webpage performance analyzer does everything else—automatically. Each page element is tested and analyzed—as often as every 30 minutes, so problems are detected quickly.
● Detailed reporting – Every element of every test is recorded to create detailed, drill-down reports. Extensive use of graphs and tables make it easy to see important data at-a-glance, speeding up the troubleshooting and remediation process.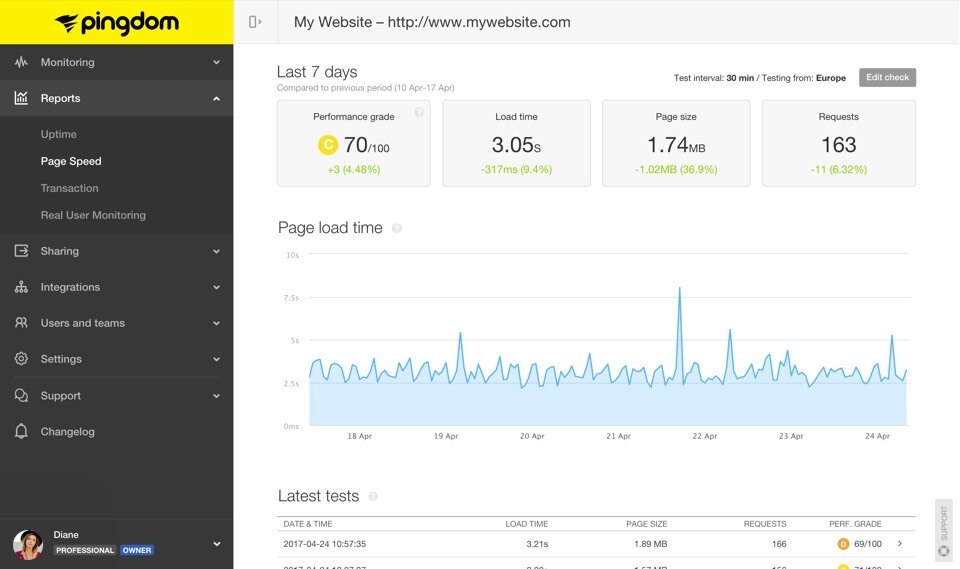 Improving the speed and responsiveness of your homepage is crucial to keeping visitors on the site. But other key pages, such as the pricing page or the checkout page, need similar attention to maintain a great customer experience—and to encourage your website visitors to keep coming back.
● Visual page load reporting – Even a poor-performing website will load elements faster than you can "see". The Pingdom filmstrip feature allows you to scroll through a visual timeline showing every element as it appears on the screen. You can then reorder elements to increase loading speeds, display key information, and allow visitors to interact with the page before it has fully downloaded.
● Super-simple setup – Enter your page URL into Pingdom and the page performance tool gets to work, allowing you to begin carrying out tests and analyzing results in a matter of minutes.
● Instant notifications for your dev team – Pingdom webpage performance tools include an API, allowing you to connect the platform to other solutions. You can also direct alerts, test results, and metrics to your developer chat platform (Slack, OpsGenie, PagerDuty, etc.), so work can begin as standard.
● Outage alerts – If your site goes down, Pingdom will let you know. Automated notifications can be sent via SMS, email, and app notifications to always keep you in the loop.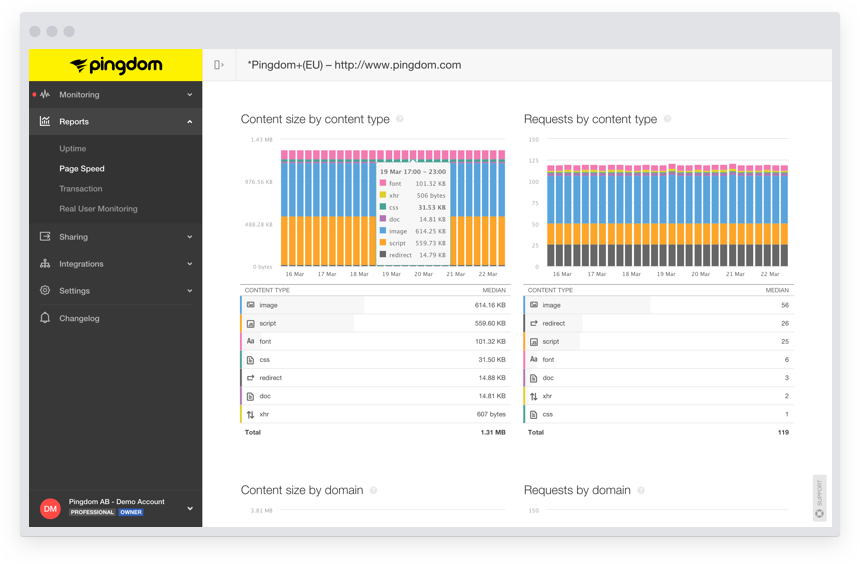 Try it free for 14 days
Start monitoring your website's availability
START 14-DAY FREE TRIAL
Get started now and you can cancel any time.