Website Content Optimization – Monitor Your Load Speed
Website content optimization is critical to maximizing page speed and tweaking key interaction flows, such as login, signup, and checkout processes. SolarWinds® Pingdom® can help you identify the webpage assets most in need of improvement.
Much More Than a Fast Ping Response
With website assets increasing in size and complexity, content optimization is where the greatest web performance benefits can be realized. Pingdom offers a range of content optimization tools to help you identify where gains can be made.
How fast are my scripts? – Website functionality depends on scripts and style sheets, but if they're too slow, visitors will go elsewhere. Pingdom analyzes every script on your page and provides an accurate record of execution time, giving you a baseline against which to make improvements.
Tracking transactions – The link between webpage and underlying content management database is crucial, as is transaction speed. Pingdom helps you track and monitor transactions, so you can see bottlenecks—and how to fix them.
Minimizing media – Rich media is increasingly important to the user experience, but large files significantly impair page load speeds. Pingdom provides insight into every image and video, identifying what assets could be better optimized to increase page responsiveness without reducing functionality.
Slow down to go faster – The Pingdom filmstrip feature captures the entire page process visually to create a navigable timeline of every event during rendering. You can watch in slow motion to see in exactly which order the assets load and how long each takes to render. Use these insights to correct the page load order and display the most important elements to your visitors first.
Website content optimization is not a one-time project. Although Pingdom rapidly highlights "big bang" opportunities for immediate improvement, long-term load speed gains will occur due to many tiny incremental changes. The Pingdom comprehensive suite of tools is on-hand to help you every step of the way.
Performance metrics at a glance – Pingdom provides all the metrics you need to understand website speed, including overall load time, number of requests, and page size. And to help ensure you have a benchmark to provide some context for the results, we also show how your site ranks according to the Yslow performance matrix.
Analyze the history of website improvements – Pingdom retains a full history of every performance test. You can easily prove the success of your website optimization strategy by creating a report showing the results of your incremental improvements over time.
Make informed strategic decisions – Using Pingdom insights, you can expand your website content optimization strategy, prioritizing tasks effectively and identifying where additional funding and development is required. The more accurate your data, the more accurate your strategic decision making will be.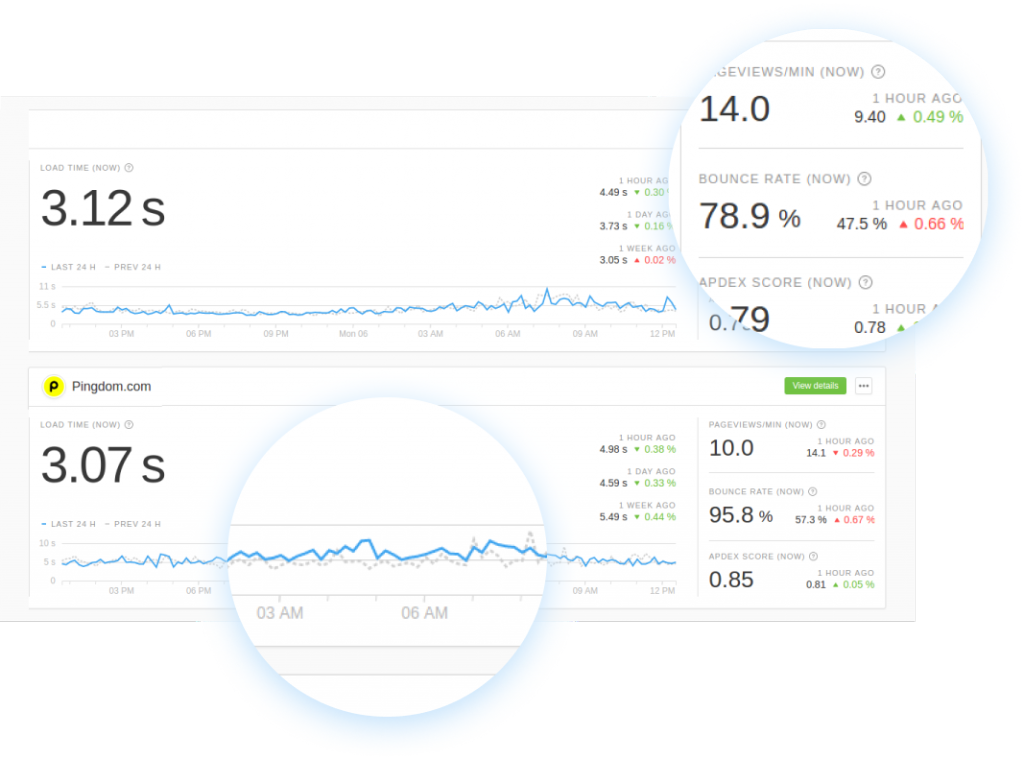 Try it free for 30 days
Start monitoring your website's availability
START 30-DAY FREE TRIAL
Get started now and you can cancel any time.