Web Performance Monitoring – Detailed Metrics and Alerts
A web performance monitoring solution allows you to see exactly how your webpages are performing and make adjustments to deliver a faster, more responsive experience for your visitors.
Actionable Performance Insights for You
Optimal web performance is critical to the user's experience. But we know key metrics like webpage load speed fluctuate according to peaks in demand, changes in the local server's load, and more. With an effective web performance monitoring solution, you can identify—and fix—problems before they take your site offline.
24/7 monitoring – SolarWinds® Pingdom® can test availability and efficiency once per minute, so you know the moment one of your website KPIs drops below acceptable limits.
Global test locations – With 100+ test locations worldwide, Pingdom allows you to accurately assess website performance and to replicate the visitor experience from a global perspective.
In-depth reporting and analysis – Each test result is collected and collated, providing a complete history of performance gains as you tweak and refine your code. Built-in filtering functions allow creation of slice-and-dice reports to trace and troubleshoot intermittent issues that may otherwise be missed.
Go beyond general page load stats – Page load times are an important metric, but you need more granular detail for complete optimization. Using just the page URL, Pingdom tests and analyzes the loading times of every page element, including HTML, JavaScript, and CSS, so you can identify and prioritize development resources.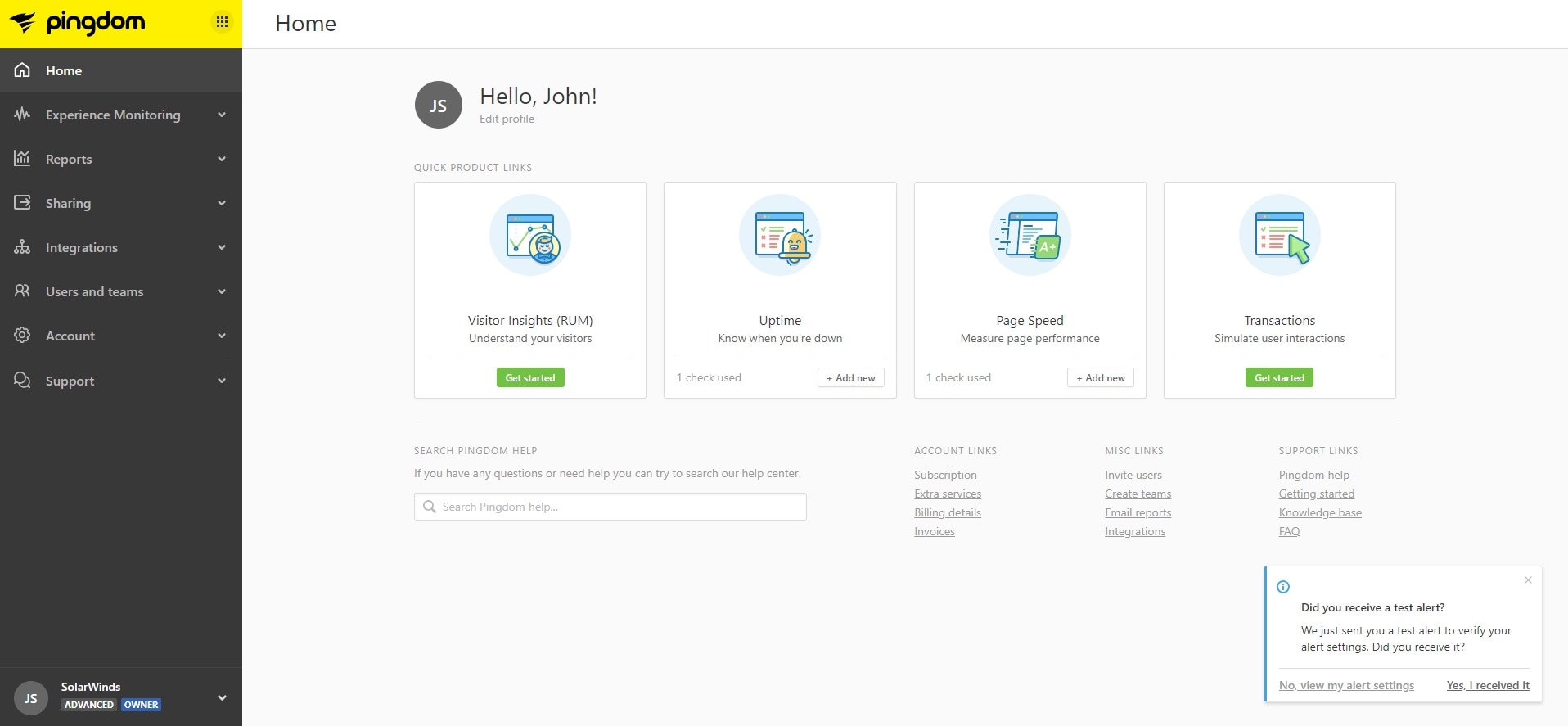 To maintain 24/7 website availability, you need a system of instant alerts about outages and transaction flows working incorrectly. Pingdom includes a configurable alerts engine to help ensure the correct person gets notified as soon as possible. You'll be able to identify and fix problems before users even notice anything went wrong.
Alerts when something breaks – How quickly you respond to an outage could have a significant effect on your online business. Configure alerts to match your operational priorities including page outages, web server error messages, content changes, HTTP status, and more.
Giving the all-clear – Pingdom also provides alerts as errors are fixed, and services come back online, so you know when your repair activities have worked.
Any time, any place alerts – Native support for SMS text messaging ensures you always see the most important alerts. And with the Pingdom iOS and Android apps, you can go from push notification to mobile dashboard in a single tap.
Messaging for teams – Output alerts using a range of communications channels to ensure messages are forwarded to your DevOps team quickly and effectively. Integrate Pingdom into your existing team messaging workflow using channels like Slack, VictorOps, OpsGenie, and PagerDuty.
Try it free for 30 days
Start monitoring your website's availability
START 30-DAY FREE TRIAL
Get started now and you can cancel any time.