Drupal Monitoring – Optimize Your Drupal Website
Monitoring for Drupal-based websites allows you to test availability and get instant notifications as soon as a website outage is detected. Get a free 14-day SolarWinds® Pingdom® trial to help ensure all visitors get uninterrupted access to your online services.
Monitoring and Transaction Testing for Drupal Websites
Even a few seconds of an outage can result in lost revenue, especially if your Drupal-based website serves an e-commerce business. Pingdom provides a comprehensive suite of monitoring and reporting tools to keep you informed about website status and whether crucial transactions are working correctly.
Status checks every 60 seconds – Pingdom can ping your Drupal-based website once per minute and alert you when the ping test gives no response. You can adjust how soon alerts get sent and tell Pingdom to resend them up to four times after the first message. Notifications can be sent via SMS, email, push notifications, or collaboration tools, such as Slack.
Monitor Drupal performance for your global customer base – Pingdom uses a network of 100-plus probe servers located across the world to confirm website availability for every visitor, regardless of where they're located. These global testing tools also identify localized issues, such as CDN outages, to help ensure your site is open to all.
Transaction testing – Making sure crucial website transactions work correctly is super important for e-commerce businesses. Pingdom helps you configure transaction monitoring to get notified each time an issue is detected, such as a flaw in the purchase process or the sign-up form.
Identify long term trends – With Pingdom reporting tools, you can analyze long-term trends to reveal intermittent problems affecting load times and digital user experience. Pingdom stores web performance insights for your Drupal-based website for up to 400 days.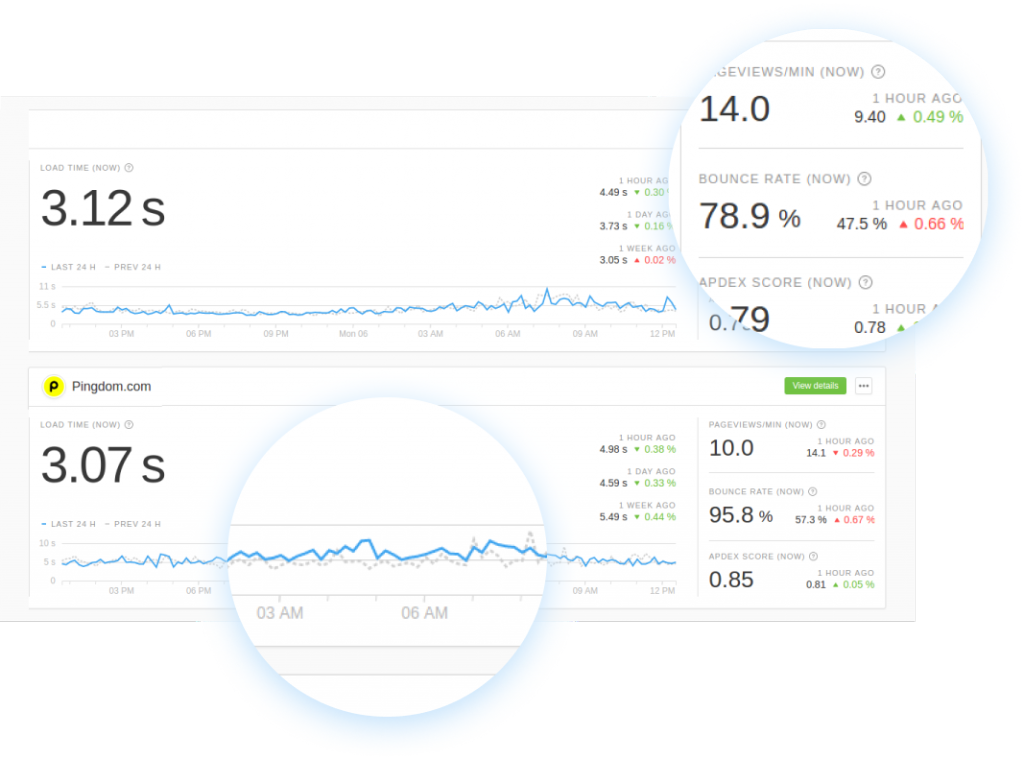 Monitoring for Drupal websites offers much more than simple availability tests. Pingdom provides tools to help you analyze and optimize web performance, ultimately delivering better digital user experience.
Optimize and validate site elements – Make informed optimization decisions using element size and load time data collected by Pingdom. Comprehensive visualizations and reports help you understand the impact of each new development and how it affects page performance.
Visualize the page load process –The Pingdom filmstrip feature captures a screenshot every 500ms, so you can analyze each step of the loading process. Use these insights to reorder page elements or script execution to help ensure visitors get access to the most important website elements first.
Real user monitoring – Use the real user monitoring (RUM) feature to better understand how real users interact with your website and what issues affect their experience. Pingdom collects performance data from actual visitors to help you identify which aspects of your website are most in need of improvement.
Try it free for 30 days
Start monitoring your website's availability
START 30-DAY FREE TRIAL
Get started now and you can cancel any time.