Website Outage Checker – Track and Monitor Outages
The SolarWinds® Pingdom® website outage checker is a vital component in the web developer's toolkit, to help ensure the website is up and running to meet visitor demands
Website Outage Monitoring
Monitoring uptime manually is time- and resource-intensive, and may not take under consideration localized issues. Automated website outage checkers, such as Pingdom, can ping your web server and test availability from multiple server locations.
A website check every minute – Pingdom checks website status as often as once every 60 seconds and sends an alert if it fails to receive a response. It uses a network of more than 100 test servers located in data centers around the world to ensure all visitors can access your website regardless of location. An uptime check from many locations still counts as a single check against your subscription plan.
Instant notifications – Pingdom monitors your website for outages and interaction flaws (see below) and alerts you when something unexpected happens. You'll get an outage alert using a selected channel, including email, SMS, push notifications, or popular collaboration tools, such as Slack, VictorOps, OpsGenie, and PagerDuty.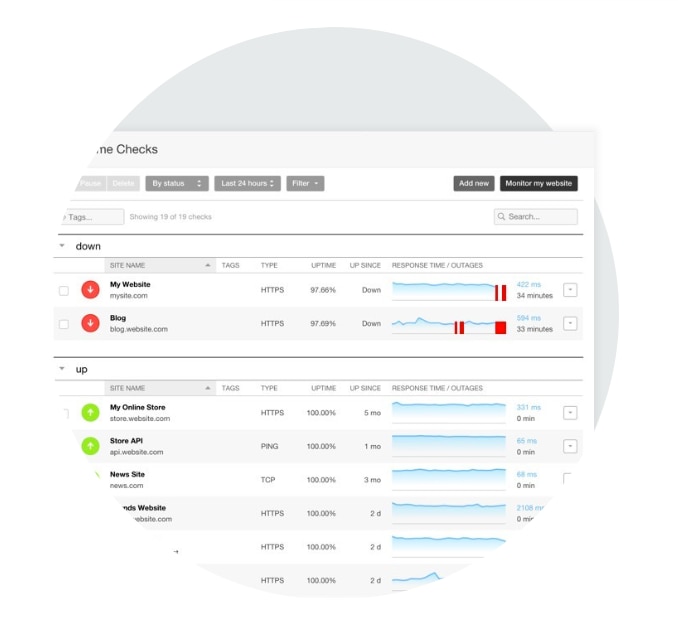 Web performance optimization is an ongoing, proactive effort to improve digital user experience. And thus, getting notified about outages on its own may not suffice. Pingdom is much more than just a website outage checker, providing you with handy tools to make your site more performant.
Page speed tests – Everybody loves blazingly fast websites, and therefore you need to know what exactly causes slow load times. The Pingdom page speed feature allows you to analyze in detail what exactly affects your load times. You'll get a full picture to understand how all elements, including HTML, CSS, JavaScript, and images, perform in relation to each other. Pingdom stores page speed tests for two weeks, so you can immediately see the effects of your improvements.
A history of tests – The Pingdom visitor insights report stores the results of your site's web performance for up to 400 days (depending on your subscription plan). Analyzing the load time history as experienced by your users, you can determine whether there are ongoing performance issues needing to be addressed or random transient network conditions that'll require intervention by your ISP or CDN provider.
Real user monitoring (RUM) and transaction monitoring – Pingdom also helps you understand how web performance affects real visitors and their ability to access crucial website functionalities. RUM is a way to collect load time data from your actual visitors, while transaction monitoring helps ensure all website interactions are working correctly. You can set up alerts to get notified as soon as one of your crucial transactions is unresponsive, to start the troubleshooting process before any users are affected.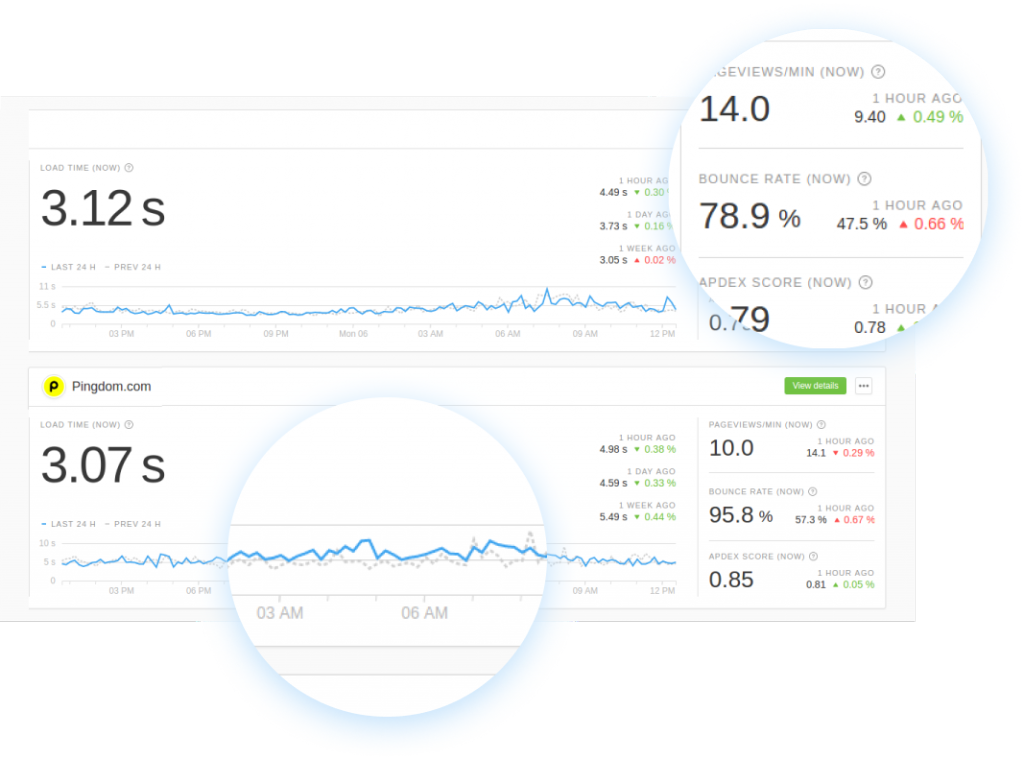 Try it free for 30 days
Start monitoring your website's availability
START 30-DAY FREE TRIAL
Get started now and you can cancel any time.