Web Application Monitoring – Track Load Times and Availability
SolarWinds® Pingdom® provides a complete set of capabilities for web application monitoring to confirm and help ensure optimal user experience. Gain a complete understanding of your web app's performance and identify potential improvements.
Monitor the Availability of Your Web Application
Ensuring your web application is always available and operational for all visitors is crucial to all online business activities. Monitoring for outages from various locations is one of the most basic activities to help ensure users get an uninterrupted access to online services provided by the web app.
Web server pings – Pingdom will check your website once per minute, which is a genuine set-and-forget test. The moment your server stops responding to pings, you'll receive an alert via email or SMS advising of an outage. You can then implement your emergency troubleshooting procedures to re-establish operations as quickly as possible.
Availability testing from multiple locations – Monitoring for outages requires helping ensure visitors from all locations get an optimal user experience. Pingdom uses a network of over 100 servers located in data centers across the world to provide complete global oversight of availability and performance.
Real time downtime alerts – Pingdom provides a range of alert options that can be sent via SMS, email, or push notifications. You can also integrate Pingdom with popular collaboration platforms, such as Slack, OpsGenie, or PagerDuty, to make sure the correct person gets notified as soon as possible. Pingdom can alert you to website outages or issues with key website transactions, such as the sign-up process, or completing purchases.
Public status pages – Pingdom comes with customizable uptime status pages to share your web application's availability with colleagues or clients. You can choose between just showing the current status or include historical data.
While monitoring site availability is key, it doesn't give you the full picture. At the end of the day, it's the actual user experience that truly matters above everything else. The speed of your web application and general web performance levels are key to attracting visitors to your site and converting them to paying customers.
Filmstrip feature – The Pingdom Filmstrip feature lets you view how your page loads by taking screenshots every 500ms so you can see what a user sees on their screen. This is an invaluable source of insight on what page elements are most needing improvement. It'll also help you decide on reordering page elements to make sure the most important ones are ready to be interacted with as soon as possible.
Transaction testing – Typically a web application collects data from a source, such as the customer, performs a calculation of some kind, and returns some related information. This round trip, known as a transaction, must be fully optimized to ensure it completes as quickly as possible. With Pingdom transaction monitoring, you can benchmark the current performance of interactions including search forms, log in processes, and shopping carts, and learn how they perform in relation to each other. The benchmark also provides a reference point against which to improve application speed.
Real-time user monitoring – See what your visitor sees as they interact with your web application with real user monitoring (RUM). The Pingdom console allows you to track their journey in real time and confirm your application is performing well and delivering acceptable page speeds for all visitors.
Full application testing history – The results of the Pingdom test are collected and collated, ready for further analysis. This data allows you to quantify the positive effects of your latest developments. Pingdom stores page speed data as seen by actual visitors in the visitor insights report for up to 400 days.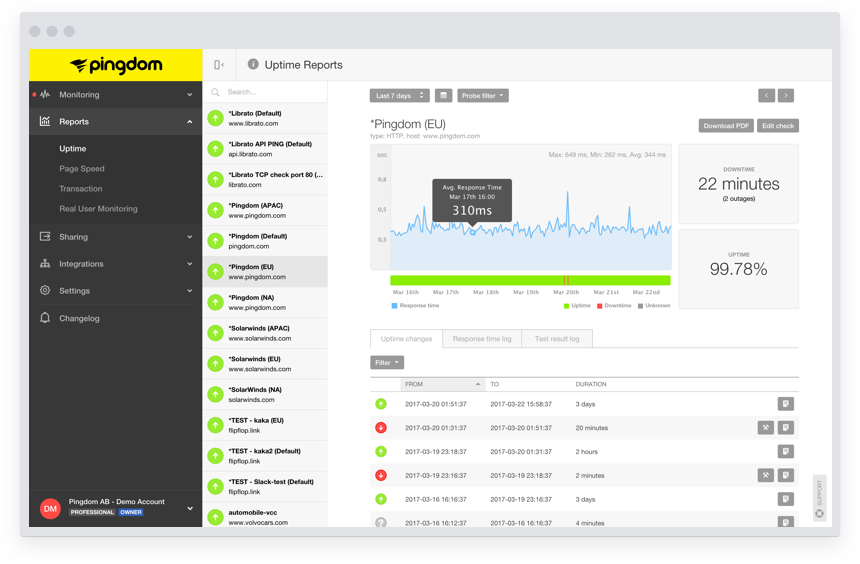 Try it free for 30 days
Start monitoring your website's availability
START 30-DAY FREE TRIAL
Get started now and you can cancel any time.