User Activity Monitoring
Implement Pingdom Real User Monitoring (RUM) on your website to gain visibility into users' real-time activity and experience.
Get User-Centric Performance Metrics
With Pingdom® advanced RUM capabilities, get a detailed view of user performance metrics. The data can be used to optimize the website and deliver a seamless user experience.
Live Map – The Pingdom live map feature helps you understand who's impacted by outages and poor user experiences. Compare how performance has changed over time and across different geographic locations.
Advanced Filtering – A visitor's experience differs depending on the device, browser, and platform they use to access the website. With Pingdom advanced filtering features, get real-time, real user behavioral data including most viewed pages, time spent on each page, and more. Use these metrics to identify bottlenecks, so you can fix them and deliver a seamless digital experience worldwide.
Apdex Score – A customer satisfaction score helps you monitor the health and performance from the end-user perspective. Set performance levels to monitor whenever your site starts to lag and negatively impact the customer experience.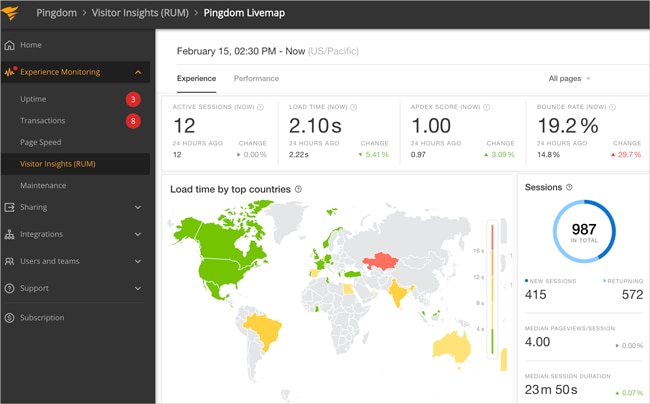 With a complete set of Pingdom page speed monitoring capabilities, get an analysis of every element of the page and view real-time performance metrics to ensure optimal user experience.
Per Page Analysis – Pingdom analyzes performance of every webpage by testing everything from scripting to media files or backend database queries requiring optimization. Users can optimize each page based on these insights.
Root Cause Analysis – Pingdom performs a root cause analysis to identify user trends, view file size, and page load times on a single pane. It also runs a traceroute analysis to examine server response codes, which help organizations make critical decisions quickly.
Comprehensive Reporting – Pingdom provides comprehensive reporting features to view and analyze webpage performance and user metrics. The Pingdom reporting engine provides a graphical representation of user activity on a webpage, so you can immediately address performance issues.
RUM Services
Identify your visitor's experiences on different platforms, browsers, and devices and make informed optimizations to deliver best-in-class service.
Multiple Test Locations – Website users can have different website experiences based on their location around the globe. Pingdom checks website and webpage performance worldwide from around 100 locations, so users have an uninterrupted experience.
Round the Clock Monitoring – Continuous and proactive monitoring helps you deliver the best digital experience. Pingdom 24/7 monitoring provides availability reports at intervals of one minute.
Try it free for 30 days
Start monitoring your website's availability
START 30-DAY FREE TRIAL
Get started now and you can cancel any time.