Website Monitoring
Website monitoring is an essential function to maintain uninterrupted access to web-based services. The over-arching goal of website monitoring is to help ensure immediate and appropriate communication of any issues with web performance or website availability to both technical and non-technical employees.
Maximum Monitoring Functionality, Minimal Management Hassle
SolarWinds® Pingdom® is a comprehensive, cloud-based website monitoring tool that alerts you to web performance issues without many of the headaches typical for home-grown monitoring solutions. It takes just minutes to install—and that's it. Everything else is taken care of automatically.
● Are we running? – Using a global network of 100+ test locations, Pingdom runs tests once every minute to confirm your website is up and running. Distributed testing identifies major server issues, or localized problems within your content distribution network (CDN).
● Set and forget configuration – Just enter the URL of your webpage and Pingdom does the rest. It generates a series of website availability reports and deep page analytics ready to review when you are. Whether you're technical or in management, you'll get the insights you need within minutes, so you can make informed decisions on how to offer a top-notch digital user experience.
● All hands on deck with automated alerts – Pingdom provides a range of notifications so alerts can reach the correct person as soon as a problem is detected. From SMS, email, and app notifications, to groupware messaging alerts using Slack (or similar), you can choose the communication channel that's most popular among your team members.
● Website monitoring at the page level – The webpage is where real action happens on your website, so the Pingdom website monitoring service goes way beyond simply confirming the website is available. Every script, image, and database transaction is tested to identify specific bottlenecks, so you can immediately begin corrective work where it matters most.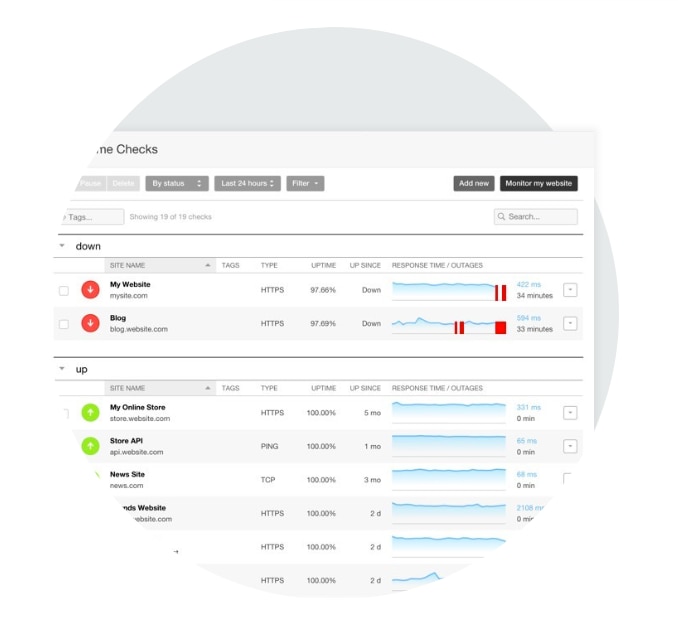 Sometimes it's hard to translate the business benefits of website monitoring software to non-technical colleagues. Pingdom not only helps you identify and prioritize performance issues, but it also provides evidence of how your development efforts are paying dividends.
● In-depth test reports – Every element of every website test is captured and saved so you can create detailed, drill-down reports. At-a-glance tables and graphs highlight key metrics, ready for sharing with non-technical colleagues and decision makers.
● Historical data comparisons – With a full history of previous tests, you can deliver reports that clearly show the long-term incremental benefits realized through your ongoing optimization efforts.
● Share successes with your customers – Pingdom reports can be customized and shared online. Help your visitors or end users understand the website developments you've been working on—and how their experience has improved.
● Any time, any place monitoring – Most of the Pingdom website monitoring tools are available via our Android and iOS apps. You can conduct tests or begin the early stages of troubleshooting as soon as they're required.
Try it free for 14 days
Start monitoring your website's availability
START 14-DAY FREE TRIAL
Get started now and you can cancel any time.