WordPress Website Monitoring
Add SolarWinds® Pingdom® real user monitoring (RUM) to your WordPress website and get live visitor insights and user behavior metrics. Install an updated WordPress plug-in and start using Pingdom RUM to collect real user data and improve website performance.
Track and Monitor Real User Experience
Gain in-depth visibility into end-user experiences and know how they interact with your WordPress website. Deploy fast and scalable Pingdom real user monitoring (RUM) to get live visitor insights capable of informing improvements to site performance and experience.
Know Users' Digital Behavior – With the advanced filtering feature in Pingdom, you can identify how users access your website, which browsers and devices they use more often, and their geographic location to understand actual user behavior. Additionally, you can find out user trends across regions and optimize your website accordingly.
Compare Usage Metrics Over Time – Pingdom provides real-time and historical data to help track website performance and user behavior. Compare monthly or yearly data on usage metrics such as top visited pages, top platforms, top browsers, active and inactive sessions, and bounce rates.
Optimize Users' Digital Experience – Pingdom utilizes a wide network of servers across the globe to provide an accurate representation of how users are experiencing and interacting with WordPress websites. It's designed to identify localized performance issues and CDN outages in specific areas and help you make data-driven decisions to improve performance and ensure website availability.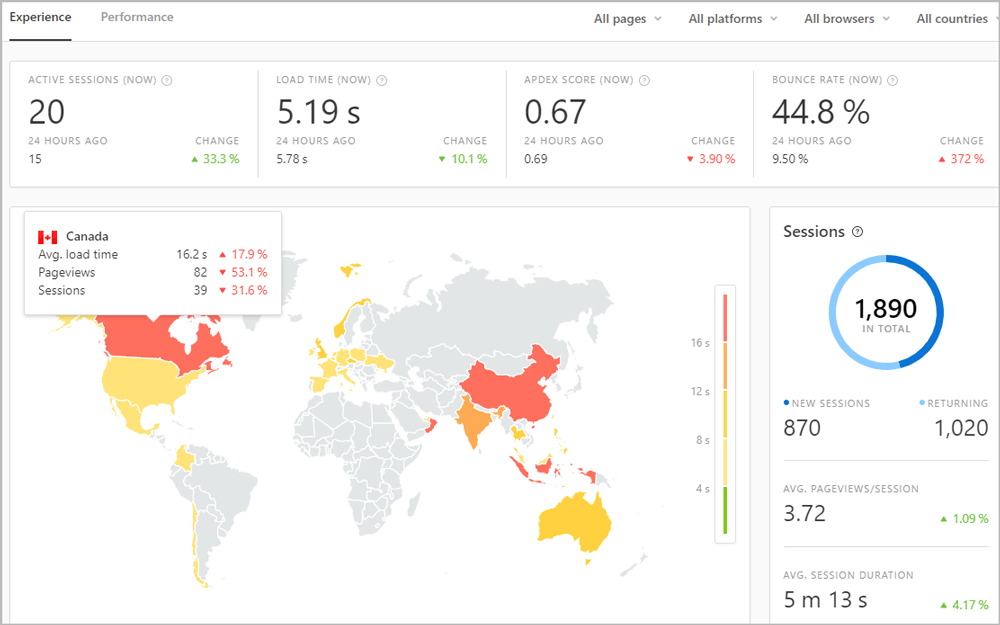 Pingdom helps monitor WordPress webpage speed to ensure a seamless end-user experience. Pingdom real user monitoring collects real performance data from actual site visitors across the globe.
Advanced Filtering – With RUM advanced filtering features, webmasters can identify bottlenecks and gain insight into the health and performance of WordPress websites. RUM filters real user data based on location, device, browser, and platform to help you make informed optimizations and deliver great performance.
Viewing Live Visitor Insights – Deploy Pingdom RUM using a snippet of code and add the tag to your website to get real-time information about your current website visitors. Discover user behavior and website browsing patterns over time.
Analyze Webpage Performance Metrics – Monitor performance metrics like the Apdex score (accepted customer satisfaction score) and discover time to first byte (the time it takes for users to start seeing specific elements on a page). RUM provides an overview of a site's webpages and analyzes real user behavior and the end-user experience in real time.
Simple and Scalable Monitoring
Pingdom real user monitoring enables WordPress webmasters to monitor millions of pageviews, check their availability, get notified about issues, and present data in clear, comprehensive visual reports.
WordPress Reporting Tools – Pingdom collects and stores RUM data for up to 13 months. These insights can be utilized to track usage metrics, statistics, and trends as well as identify issues affecting user experience, load times, and other performance-related factors.
Customizable Reports and Dashboards – The reports can be customized, filtered, and shared with customers and key stakeholders. They also include page-level metrics so you can focus on important things like checkout pages, signup pages, and blogs. Get a quick and high-level summary of website and application performance metrics with user-friendly dashboards and page grouping features.
Try it free for 30 days
Start monitoring your website's availability
START 30-DAY FREE TRIAL
Get started now and you can cancel any time.